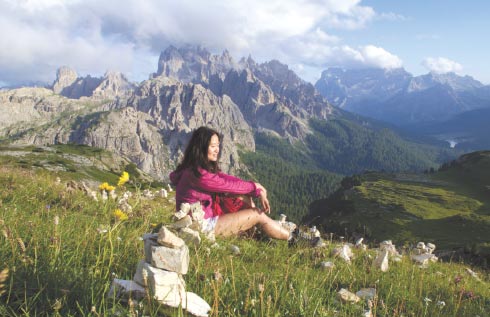 Admiring the majestic Dolomite while meandering through a beautiful green. [Photo by Rico Sauerborn/China Daily]
"You finally endeavored to visit paradise?" was my friend's response when I messaged to ask if he was going to be around this summer.
His posts on WeChat, the instant-messaging app, over the past couple of years about this so-called paradise had intrigued me. So I flew half way around the world to see for myself.
I duly arrived in the medieval city of Bolzano, the capital of South Tyrol province in northern Italy, a region still little-known to Chinese tourists.
The old town features Austrian-style architecture-it was part of Austria before World War I-and cobbled streets, with mountains visible in the far-off distance. Here you can find a bustling mix of farmers' markets selling local produce, stylish boutiques and shops, and first-rate restaurants.
My friend pointed out the long line for the archaeology museum: "It's famous worldwide as the home of the alpine iceman, Otzi," he says.
Just a few steps from the museum, an idyllic image of life in Bolzano starts to open up. On our way to my friend's home, we passed through a quiet, natural park surrounded by mountains on all sides, and where locals come for a picnic, a country run, or simply to read a book.
"It's nice scenery to walk through every day on my way home," he tells me. "There's plenty of walking trails that lead you up to a castle or a vineyard, all with panoramic views of the city."
I admit to feeling a little jealous at the time, and couldn't wait to explore the area further.
Walking along the peaceful trails alongside lush vineyards, and being greeted with the occasional ciao, I didn't feel at all like a tourist. After a short walk, I reached a lookout that provided an incredible view over the city.
In Bolzano, wine tasting is an obligatory pastime, so I could hardly resist my friend's invitation to visit an organic winery owned by a local family by the name of Loacker, who have been nurturing their vines since 1978.
Franz Loacker, an organic pioneer in the region, is naturally proud of his achievements. "Isn't it paradise?" he says, before explaining that his grapes are grown on biodynamic principles and that only homeopathic remedies are employed to combat disease in the vines. "Back then, people thought I was crazy," he says.
I could feel his passion for the region and for growing grapes in harmony with nature. After a few sips of the smooth vintage, also called Loacker, I was intoxicated by both the unique taste and the beautiful views in front of me.
My quest for more hilly walks brought me to a nearby town called Merano, a scenic 30-minute train ride from Bolzano.
Strolling past art-nouveau buildings and imperial-style architecture gave me an instant feeling for Merano's rich history. Behind the main church, I was pleasantly surprised to find some quiet hiking routes with few tourists. The exquisite gardens and deserted castles along the way made for ideal breaks where I could lazily take in the breathtaking mountain views.