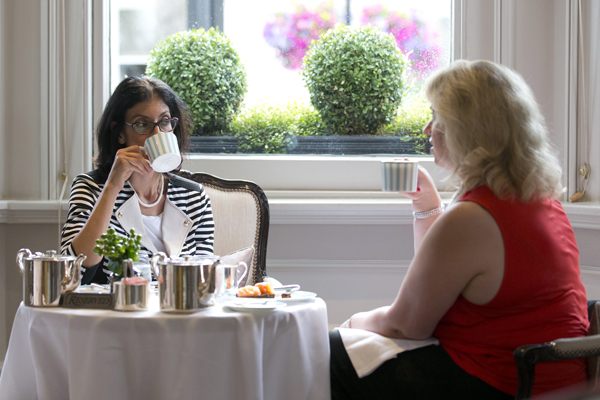 Patrons sip tea while conversing. [Photo provided to China Daily]
'A big draw'
At The Kensington Hotel in west London, the tea selection on offer includes silver tip jasmine tea from China, scented over six days with fresh jasmine flowers.
Customers tend to take around two hours savoring the four varieties of sandwich - including the staple cucumber, smoked salmon and egg mayonnaise, plus the five sweets including an amalfi lemon eclair and strawberry tart.
Fabio Adler, the hotel's food and beverage marketing manager, says part of the attraction was its conviviality - everyone eating the same food at the same pace.
He says afternoon tea was just one of their five meal slots but more than others reflects a London hotel's standing.
"It's a big draw," the Brazilian says. "It's really fiercely competitive. It can get silly with timings: hotels offering it at 11:00 am defeats the purpose.
"And Spanish afternoon tea with mini tapas; for me, that's going too far."
At The Bridge Tea Rooms in Bradford on Avon, southwest England, the two-time winners of the UK's top tea place award also keep to a tried and tested formula.
They maintain a Victorian theme, with the waitresses wearing period white aprons and mop hats with black skirts.
"The look and feel is very important," owner Alison Hayward says. "Keep it traditional is the best way."