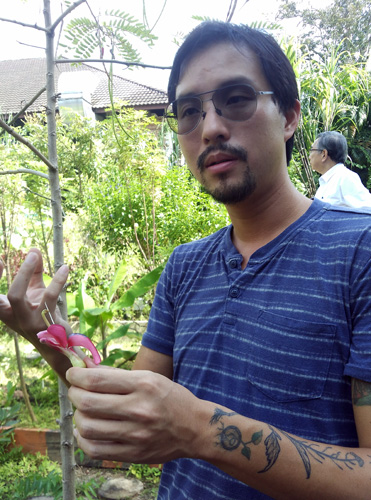 Bjorn Low worked in advertising in the UK before returning to Singapore and founding the Edible Gardens. [Photo provided to China Daily]
According to Low, Singapore imports 95 percent of its total food needs.
"In a land-scarce, import-dependent country like ours, kids grow up having zero contact with agriculture," he says.
"So, from the very beginning, our cause is wedded to the idea of 'grow your own food'.
"As tending an allocated farming area in Singapore is complicated and costly, we are trying to open-up underutilized city spaces - rooftops and sidewalks - for agriculture, thus reconnecting urbanites with nature."
People are welcome to explore the gardens for free, although the dishes at the restaurant don't come cheap.
Low himself admits that he would not dine there regularly.
Voluntarily work is encouraged - currently, Low and his team also hire people - mainly university students - to help maintain the garden.
Other spots that have been opened under the Edible Garden scheme include school playgrounds and hotel or rooftop gardens.
Social inclusion is also what Low's team aims for.
They currently run an indoor training site in collaboration with Singapore's Autism Resource Center, where adults with mental disabilities are trained and then hired to do farm work.
Plans are afoot to build more such facilities.
"Singapore is known globally as a garden city-state. It's our belief that this beautiful garden should be productive too," says Low.