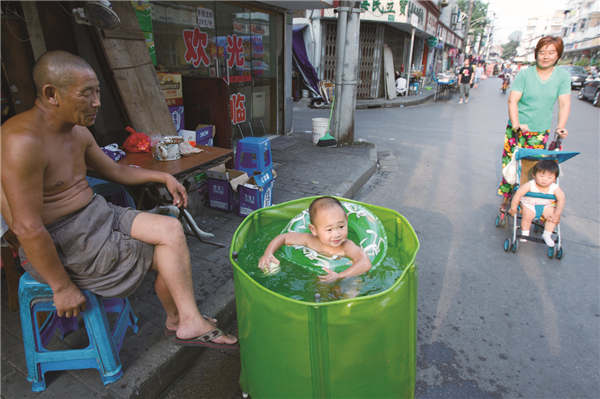 The heat of summer has made the scenes in Shanghai's lane houses more vibrant. People dine, rest and socialize in the public areas to avoid the heat trapped inside their homes. Photos by Gao Erqiang / China Daily
A look back at how Shanghai residents dealt with unbearable heat during an era when air conditioners were not yet common.
The current heat wave in Shanghai has brought more than just scorching temperatures to the city, with residents also hit by a wave of nostalgia as they reminisce about how they survived a similar situation in 1934.
Average temperatures since July 21 this year has been 37 C and the heat wave is expected to continue for another week. But as unbearable as the current heat wave may seem, the current situation still pales in comparison to the one in 1934.Residents back then had to endure 55 days of overwhelming heat as temperatures constantly exceeded 35 C, with the mercury peaking at 40.2 C at one point.
That year also marked the fourth hottest summer in the United States, with 13 states experiencing stifling temperatures of over 110 degrees Fahrenheit.
The rainy season in Shanghai, which usually lasts for weeks ahead of the onset of the summer heat, lasted just one day that year, according to the Hundred Cases of China's Severe Disasters in the 20th Century.