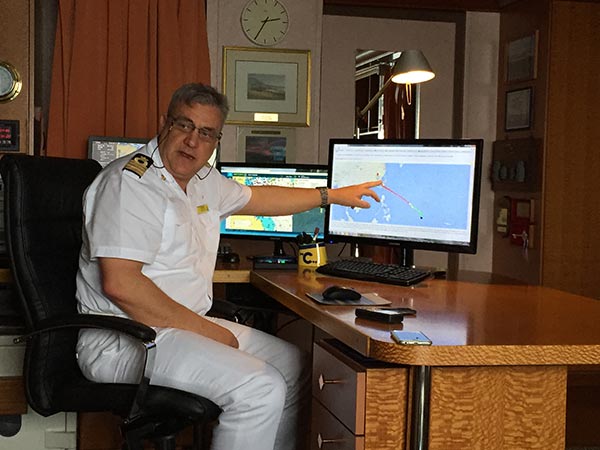 Tihomir Muzic, captain of the Costa Atlantica. [Photo by Xu Lin/China Daily]
For Captain Tihomir Muzic, the Costa Atlantica represents the Italian way of life in terms of fashion and movies from the 1960s.
"The captain is ultimately responsible for the ship. A ship is like a floating hotel, but it's different from hotels onshore," he says.
The cruise vessel has about 850 crew member from 37 nationalities, and a capacity of 2,680 guests. Nearly 20 percent of crew are Chinese, but the plan is to increase the ratio to about 40 percent.
The non-Chinese crew learn simple Chinese, to better serve the guests.
The captain also has social obligations.
When guests first arrive, they go to the theater for a cocktail gala. Here, the captain meets the guests, shake hands with them, poses for pictures, and then presents his senior officers.
He is on call 24/7 and has to be available in case of emergencies like bad weather, poor visibility or busy traffic.
Docking the ship is the most complicated part of the trip, and the captain has to be there to plan this with his officers, and with the help of a local pilot.
When the cruise ships docks, it takes on water and food and offloads waste.
"All our operations are based on two principles-that we accomplish them on time, and that we conduct them safely and in an environmentally sustainable way," he says.
"We do things safely. That's why we plan everything well in advance."
He also says though the ship is built with safety in mind, the crew also has to be professional. They have to be prepared for emergencies, and they simulate different scenarios such as fire and collisions. Even when guests are on board, the crews are in training.
There is also a medical team on board. Besides, facilities on board such as toilets are adapted for use by the physically challenged.
And, in emergencies, a team of 25-30 crew members is assigned to assist the physically challenged.
"When I was a little boy, I always wanted to be a captain and travel the world. Now, I find that education and practical knowledge are two things needed to be a captain," says Muzic.
To be a captain, one has to study subjects such as navigation and mathematics in marine schools or academies.
"It's a big field to cover. Some say that a captain has to know a little of everything. We also study English to communicate with crew members from different countries," he says.
He also says that technical knowledge without practice doesn't help much. So, one has to start from the lowest position and be promoted as experience accumulates until one becomes the most competent on the ship.
"When I started my career many years ago, there was no GPS or satellite technology. So, using the compass, invented by the Chinese, I had to observe the stars and make calculations to know our position. If there were no stars, there were errors in the calculations.
"Today, it's very easy with the advanced technology. Every second I know where we are," he says, pointing to the maps on three LCD monitors on his desk showing the vessel's location.
According to him, every region is different. Asia's waters are pretty but from a navigation point of view, it's demanding. Also, in summer, there are typhoons, and in winter a lot of rain and fog. There is also a lot of traffic sometimes, with a lot of fishing boats.
The vessel may sometimes take a different route based on weather conditions. So, if a typhoon is approaching, the ship will try and avoid it, head to an alternative port or stay in a port for more time.
"When I was young I thought my country Italy was the most beautiful. But, as I see more of the world and meet more people, I think that all places are beautiful," he says.
Muzic loves Asia's culture and its delicious food.
And he says: "The best way to travel is to cruise. You have plenty of space and every day you're in different place."