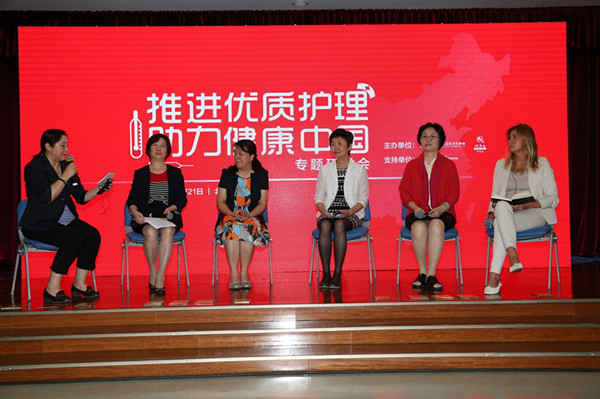 Experts said the healthy development of nursing sector is essential for the improvement of the Chinese healthcare system.[Photo provided to China Daily]
China currently lacks quality nursing services and the healthy development of nursing sector is essential for the improvement of the Chinese healthcare system, experts said recently at a forum held in Beijing.
The forum, which focused on the improvement of nursing services in China, was held on July 21. Organized by the China Health Culture Association, an association affiliated to the National Health and Family Planning Commission, and Health News, a popular health publication in China, the forum was sponsored by Johnson & Johnson.
According to the 13th Five-Year Plan (2016-20), China aims to have 4.45 million nurses by 2020, that is 3.14 nurses for every 1,000 people.
There were about 3.24 million registered nurses in China by the end of 2015, according to government statistics.
The five-year plan also says it is important to improve the professionalism of nurses as well as to develop specialized nursing professionals for the seniors.
"With a new economic and healthcare environment in China, people now want more quality and diversified nursing services," said Chen Xiaohong, the president of the association.
A greying society, the foreseeable baby boom due to the change in the family planning policy and continuing urbanization are all creating more demand for quality nursing services, which also influences people's satisfaction levels with the healthcare system in general, he said.
To meet this new demand is not only a challenge for the nursing sector but also a great opportunity for it to develop further, he added.
Guo Yanhong, the deputy director of the medical administration bureau of the National Health and Family Planning Commission, said that in order to have a healthy population it is important for people to have efficient disease prevention and health management facilities and to receive quality health education. She added that such aims could not be achieved without nurses because they are the largest component of the medical establishment and were in close contact with patients and ordinary people.
The healthy development of the nursing sector also depends on society's efforts to make nursing a respected and well-paid job, and it is important for society to learn about nurses, their work and their contribution to society, said Zhou Bing, the editor-in-chief of Health News.
The experts spoke highly of Johnson & Johnson's initiative in 2002 in the United States, in response to the country's lack of nurses, which helped attract more recruits, curb the loss of nursing staff and raise the professional prestige of nursing through providing scholarships and funds.
Nurses are now one of the most trusted professionals in the US, according to Gallup surveys.