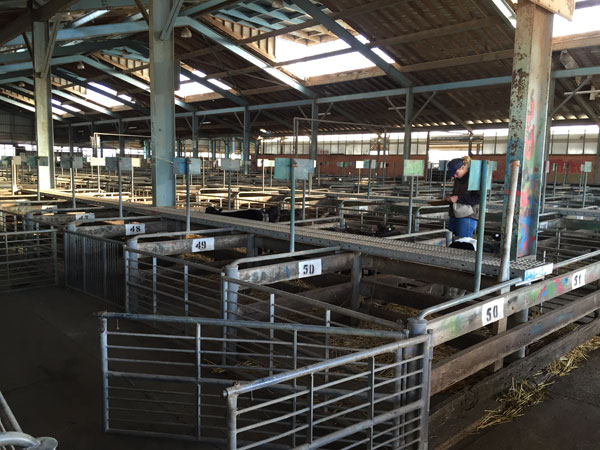 A glimpse of a cattle and cow sales yard in Ballarat. [Photo by Yang Feiyue/ China Daily]
The country provides a wide range of high-quality red meat, such as grass-fed beef, grain-fed beef, organic beef and breed-specific products such as Wagyu and Angus, gourmet lamb, nutritious mutton and wild goat.
Egstrein collects transaction data that will help buyers and producers keep a tab on prices and let them know when the time is ripe to make certain moves in the market.
Behind the scenes a lot is done to ensure the integrity of the red-meat industry, one of local pillar economies.
"They start weighing cattle at four o'clock in the morning and finish at eight," Egstrein says.
Cattle are usually put on a fast 10 hours before they are weighed so they are not carrying too much water or feed.
It takes a few hours to make other arrangements such as putting the data related to the cattle on the information board of the pen where the cattle are sent so potential buyers can easily appraise what it is that is being offered to them.
When cattle are born an electronic tag is attached to one of their ears so diseases, provenance, the name of owners and transactions can be tracked, Egstrein says.
About 500 full-blooded cattle roam around a paddock that belongs to Nick Sher at Ballan, 35 kilometers from Ballarat. The farm covers 280 hectares and the green grass is in such good trim that the property could easily be mistaken for a golf course. Sher and his wife Vicki run the farm with the help of their son Jack.
Some of their main responsibilities are animal care, preparing cattle for artificial insemination, farm maintenance work, moving hay and analyzing meat data.
Collecting hay is a demanding part of the work, says Nick Sher, adding that it is all the more crucial when grass will not grow well because of inadequate rainfall at certain times of the year. Right breeding is also a decisive factor in ensuring the cattle quality.
Cattle producers can get data on their cows once they are killed. Since full-blooded cattle can be traced back to their parents, the data on their offspring can help the Shers find out the best bull for breeding and take their semen in advance for future artificial insemination.
Reaching a decision can take several years because a lot of offspring data are needed to ensure consistency.