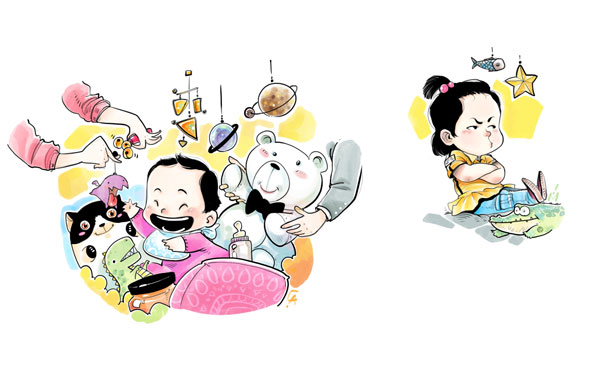 [China Daily]
Changes in family planning policies raise some highly emotional problems for many
It is near to being the ultimate in temper tantrums, young children threatening to kill themselves or to kill someone else if they do not get their way. In this case the someone else is the child's prospective sibling, and getting their own way means continuing to be their parent's one loved child.
Chinese news outlets have reported such negative reactions after parents have told their only child of their plans to have another child, and indeed such threats are said to have induced some mothers to have their pregnancies terminated.
Such harrowing scenes have apparently become a little bit more, since the country scrapped its one-child policy several months ago, but they are not new.
At Peking University Third Hospital, Wei Ling, a senior pediatrician, tells of a 13-year-old girl who pretended to be gravely ill in an effort to gain more attention from her parents, believing they loved her infant sister more than her.
When Wei asked other young patients about such matters, the great majority said they did not want a sibling, fearing that their parents' love for them would wane, she says.
The few who were open to the idea of having a sibling said it would mean they would have something to talk about with their classmates having a sibling or with those were about to gain one.
Having a sibling
Wu Liujia, of Chongqing, has a 6-year-old boy and a 10-month-old girl, and the son is very fond of his little sister, Wu says.
However, she says, that is the result of what she calls her tactical communication with the boy, including controlling her emotions and behavior in front of him.
Even before the second child had been conceived, Wu had told her son he was going to have a sibling, and emphasized it would not change her or the boy's father's love for him.
The boy accepted the message well, Wu says, mainly because he had seen some of his friends playing with a younger sibling, and wanted to have one to play with.
During the pregnancy, Wu managed to make the boy understand that having a sibling also meant he could not have all of his mother's attention and companionship.
Wu says she achieved that through patient communication, as well as help from the father throughout the pregnancy, especially in the later stage when she could not accompany the boy as she had done previously. The father made an extra effort to spend as much time with the boy as he could, including playing with him, taking him traveling and being with him until he fell asleep, Wu says.