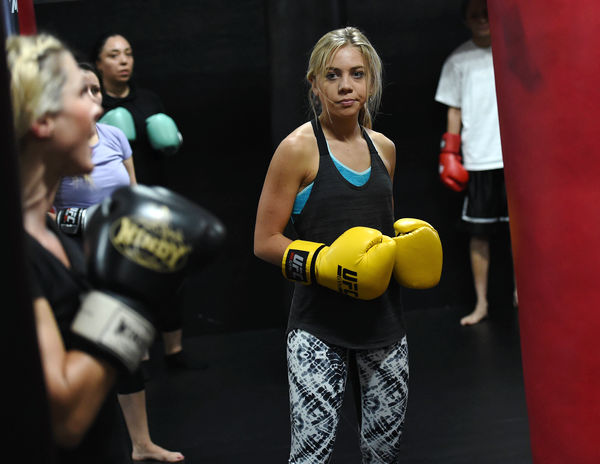 Brooke Carlucci trains with other students in a Mixed Martial Arts class at the UFC Gym in La Mirada, California. [Photo provided to China Daily]
Sweat glistens on Brooke Carlucci's brow as she drives home kicks and jabs. She and a dozen fellow Mixed Martial Arts students can crush anyone's notion that extreme combat sports are a man's thing.
Focused and with her body in combat position, the 20-year-old journalism student pounds the bag hanging in front of her: she's here to learn how to defend herself, but also to keep fit, blow off steam and have fun.
"People think it's just for boys, and it's not. Girls can do it too," she says at a gym in La Mirada, south of Los Angeles. "We can be strong, we can have fun and grow."
"There is definitely the stereotype that it's violent, bloody and gross. On TV it's seen as bad, but girls can do it. And it doesn't have to be violent," she tells AFP, exhausted but happy after a tough workout, rubbing the bandages that protect her hands.
Men ran the show for many years in the MMA world: a form of combat sport where anything goes-meaning a dizzying flurry of techniques and moves from judo, wrestling, boxing, kickboxing, karate and other martial arts. The point is to maximize physical contact.
Its popularity started growing in the United States in 1993 when the firm Ultimate Fighting Championship (UFC) turned it into a multi-million dollar moneymaker. It shows the fights on a pay cable channel that is seen by 800 million people around the world.