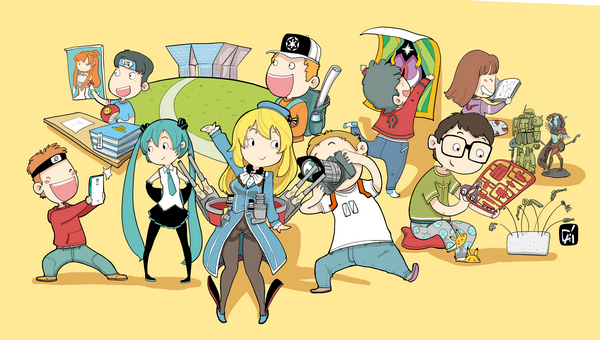 Fugitives from the third dimension. [Photo by Cai Meng/China Daily]
It is 3.30 am on a windy Sunday in northeastern Beijing. After nine hours playing board and handheld games, Zheng Rui waves goodbye to his four mates, unlocks his bike and prepares to leave their weekly meeting place, the Otaku Center.
"See you guys next weekend," Zheng yells, turning to two young men with cars, "and drive safely."
As with every party weekend that Zheng, 25, organizes, it has been a long, eventful and competitive night for these exponents of nijigen, a world in which anything related to two-dimensional anime, comics and games is treasured, and whose genesis was in Japan.
Though the second-floor venue is mainly for board role-playing games, Zheng and his friends, all in their early 20s, always take one of their favorite companions, their Nintendo 3DS handheld game console, along with them. At the center they pay 45 yuan ($6.91) each for unlimited hours of play and soft drinks.
Their main challenge of the night is Mario Kart 7, a car racing game based on Nintendo's best-selling Super Mario series created more than 20 years ago. After Zheng has set up a Bluetooth network that everyone can join, they sit around an oval table and take part in the racing.
The three-lap race is full of action, but not what you would call of the non-stop variety, and it is over in about three minutes. In that time players concentrate on far more than just having their foot to the floor. They nudge and crash into each other as they try to pass their opponents, or use special props, such as banana peels, missiles or bolts of lightning, to slow competitors down or shove them out of the way.
Pained shouts and mild curses can be heard in the group throughout the night.