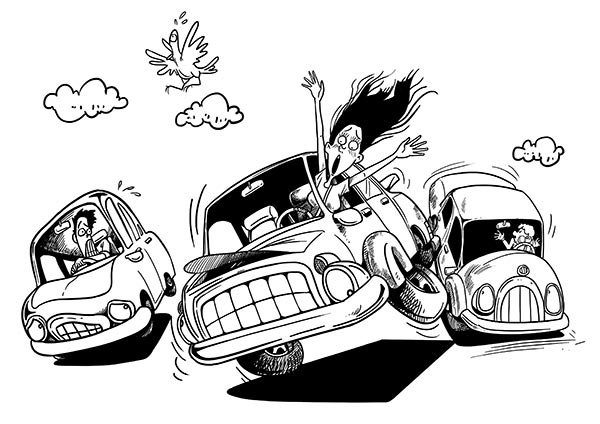 [Li Feng/China Daily]
I have to admit that the choking smog in which Beijing bathed this week came as a kind of relief to me.
Before the city authorities decreed that half the cars must stay off the road in an effort to give the air some breathing room, I had driven for just two days, having recently been granted a driver's license.
Yes, there was a degree of disappointment that I would have to forgo the pleasure of sitting behind the wheel for a day or two, but relief that I would not yet again have to wrestle with my fears, many engendered by the rank aggression and intimidation you can feel on the roads of Beijing.
But first there was my inaugural passenger, whom I volunteered to drive home after work, persistently asking me to pull up in this place or that and let him out.
"No way," I said. "If I do we are both going to die."
Doing so entailed crossing three lanes of traffic from the middle of the road, something I felt uneasy about, and indeed incapable of doing. Eventually we reached my place alive, and he took a bus home.
In fact, going by the drivers I have seen, I reckon my driving is not that bad at all. But I am clumsy and un-athletic, and whenever I mention to someone who knows me well that I now have wheels, they look at me with deep concern, as though I have just announced that I have a terminal illness.
Several of my colleagues have asked me to issue early warnings about my arrival at work.
"It wouldn't be very nice to be knocked over and killed in the China Daily compound after traveling all that way, and particularly after having swiped my work card," more than one person has said.