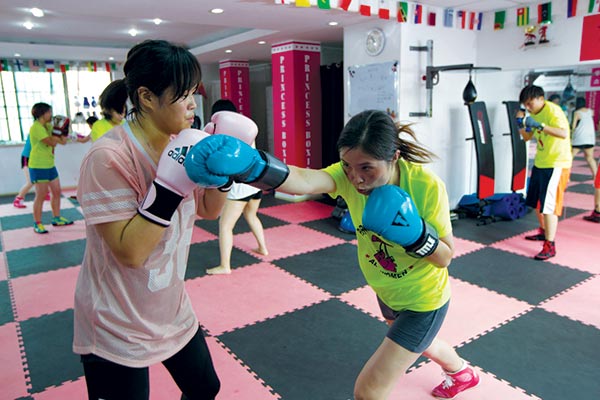 There are three tiers of training at Princess Women's Boxing Club, and members are pushed to their limits in physical tests if they want to move to advanced levels. [Gao Erqiang/China Daily]
Saturday afternoons can at times be an unusual affair for Zhao Qian and her 4-year-old son. Instead of taking the boy to a park or an amusement center, the 31-year-old sometimes brings him along to the boxing studio that she frequents. At home, the child creates a makeshift ring using his toy cars and gets his mother to spar with him.
Zhao picked up boxing just a year ago and it was, in a way, because of her son. She was desperate for a fitness regime to get back in shape after her son's birth. Furthermore, she was also seeking something to break the monotony of parenting duties.
"Looking after a baby 24/7 can be depressing. Now I'm happy, especially on days when I have training," quips Zhao, who says she can now complete 15 push-ups using her fists in a minute.
"It has made me more patient with my son and I've also found a new topic to share with him."
According to Shane Benis, the founder of Golden Gloves Boxing Gym in Shanghai, a growing number of women in the city are picking up the sport. Half of his customers are women with an average age of 29. Most are white collar workers, business women and stay-at-home mothers. Half of them are Chinese.
"The boom in Chinese women's boxing has been happening over the last 18 months," Benis says. "One of the reasons could be that many famous models include it as part of their fitness regime. For example, Chinese Victoria's Secret models all use boxing to keep fit." Shanghai is leading the way in terms of participation in the sport, and that Kunming and Beijing have vibrant boxing scenes too, Benis says.