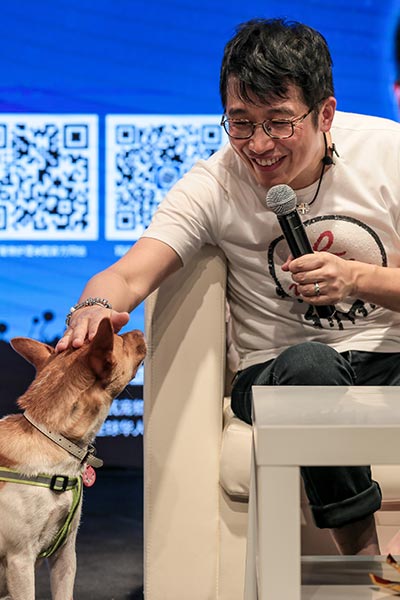 A love for animals inspired Penny Tai to become an animal behaviorist. [Photo provided to China Daily]
We are in a theater in downtown Beijing packed to the rafters with an audience whose members are transfixed by what is going on before them. The attentive, respectful silence is at times broken by gales of raucous laughter.
But this is a stage show unlike any other, for there are no acrobats, no actors, no dancers, no singers and in fact, no performers to admire at all.
Instead, audience members are like the flies on the wall of a giant consulting room in which a group therapy session is taking place, the patients being of a lower order: cats and dogs.
At center stage, sitting on a sofa, owners of the animals engage in conversation with a man, dissecting their pet's behavior from head to tail, and looking for solutions to the problems they have.
As the pets sit, lie or stand with their owners taking all this in, the audience is given the lowdown on pet foibles, misdemeanors and proclivities that include barking at passers-by, urinating in unfortunate places and being picky about food.
On stage, whenever one of the pets starts acting up and is beyond the control of the owner, the host rises like a latter-day St. Francis of Assisi and restores the peace with a few caresses and a bit of cajolery, as if by miracle.