Keeping your pets clean is a good way to keep them healthy, but with the colder weather it is important to ensure getting your best friend wet doesn't also give them a winter chill. Wang Zhenghua reports.
Winter's chill has taken hold of Shanghai, bringing with it special grooming concerns for pet owners. Bathing duties do not take a break during the chilly season, however, baths can be less frequent.
Baths are essential in winter to keep your companion from turning into a muddy mess, but owners must take special precautions to keep their animals warm and healthy.
Here are some tips on how to keep your cats and dogs clean in winter while making sure they don't get too cold.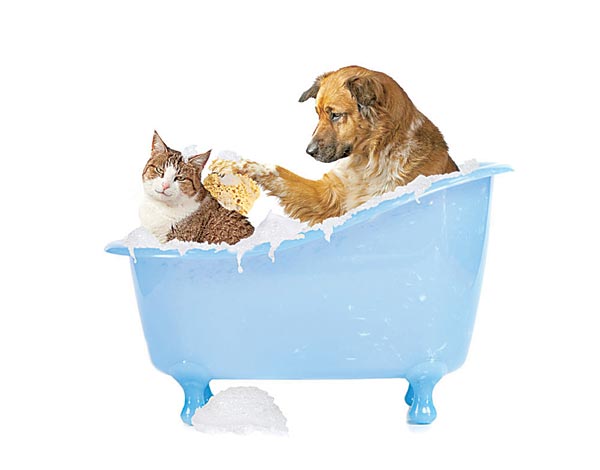 Cats
A warm bath in winter is essential to keep your cat clean and pretty and to eliminate tangles in it's hair. But improper warming measures could give your pet a chill with sneezing, a runny nose and even a fever.
To eliminate the possibility of hypothermia, use very warm water, about 40 C, for your animal in cold weather.
Cooler water is acceptable for summer baths, but warmer water during the winter months will ward off chills. Place your hands in the water to test the temperature; if it's too hot for comfort, add a little cold water to protect your cat's skin.
After the bath, wrap your cat in a towel that is highly absorbent. Rub the animal vigorously to remove as much water as possible from its coat.
Pay careful attention to the cats head and belly which are most likely to get cold if soaked.
Blow-dry your cat thoroughly. Blow-drying warms and fluffs the coat, keeping the animal warm as it dries. Hold the animal with one hand and run the blow dryer back and forth along the body, holding the dryer nozzle at least six inches away from its skin to prevent burns.
Combing the coat as you blow dry the body can speed up the drying process. It also prevents your kitty from eating too much hair when it licks its body after the bath.
The bath should take place in a properly warmed space. In Shanghai, where central heating is not available for most families, a fan heater, electric oil heater or bathroom heater are good options to keep you and your pet warm.
Other tips to keep your animal warm include choosing the warmest period of a day to give her a bath and limiting its activity until it is completely dry. Keep your animal in a small and warm space after its bath until it is dry from head to toe.