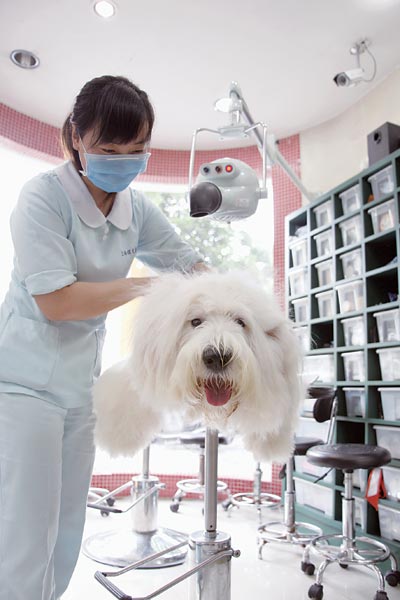 Invest in protection: Expensive medical care for the animals can be a burden for families, leading to the need of pet insurance. Wang Zhenghua / Shanghai Star
Taking out an insurance policy for your cat or dog can protect you from expensive vet bills, but are they worth the cost? Wang Zhenghua tells you.
Pet owners in Shanghai are now able to insure their cats and dogs, including unlicensed ones, to cover the costs if their pets fall ill or have an unexpected accident.
In September, China's two largest insurers, People's Insurance Company of China (PICC) and Ping An Insurance (Group) Company of China, put forward two products that target animals raised in urban families.
By paying an annual fee between 450 yuan ($73) and 3,380 yuan, owners can get access to benefits such as a premium to cover medical costs of up to 50,000 yuan and a small subsidy for advertising costs for searching for a stolen or lost pet.
Both companies use advanced DNA identification technology to make the pets' treatment at the hospital and payout by the insurance companies easier.
As people have more disposable income, pets have become popular additions to urban families, and owners have developed higher expectations for their animals' healthcare and standard of living.
According to China Animal Agriculture Association, there are about 20 million licensed dogs across China, in addition to another 80 million unregistered at public security offices.
Meanwhile, veterinary medicine is increasingly employing expensive medical techniques and drugs, and treating ear infections for a cat, for example, can cost more than 1,000 yuan at a major veterinary hospital in Shanghai.
"Animals getting ill agitates their owners and can cause an economic burden," says Zhang Xiaofeng, deputy secretary-general of China Animal Agriculture Association. "The high medical expenditure has become one of the main reasons to dump animals."