Pro pet photography on the rise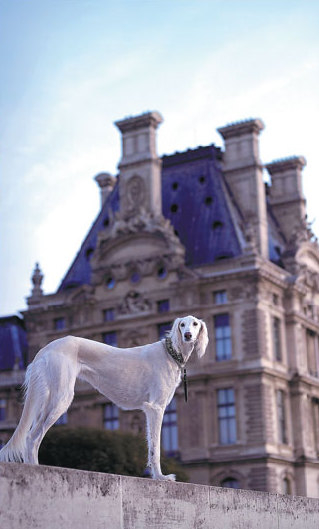 Pet photographer Rachael Hale McKenna shows her client Heyla, a 10-year-old Saluki, photographed in Paris in front of the Louvre Museum. Associated Press
It takes more than a squeaky toy and a camera to capture memorable pet portraits.
Professional pet photographers in the increasingly competitive business quiz owners about their dogs' personalities, find the ideal setting and use favorite toys to bring out the best in the animals they shoot, knowing that portraits will outlive the pets themselves.
"I spend time getting them to trust me so I can reach into their soul," says Rachael Hale McKenna of New Zealand, who just released her 15th book, The Dogs of New York.
Twenty years ago, most people didn't think to put their pet in a family photo or on the annual Christmas card. Today, both are likely to be built around a beloved animal. And the older a pet gets, the more people think about professional portraits.
McKenna and two other well-known pet photographers live continents apart and all specialize in candid photos of dogs in their favorite places, not in a studio. They spend time with people and pets before the session starts, and they know the importance of immortalizing aging animals.
Jenna Leigh Teti of Jersey City, New Jersey, offers a package for very old or terminally ill dogs.
"It's an important shoot for me, a special thing to capture for someone," she says. "And it's happening more frequently."
To catch the quirks that bring photos to life, Teti and Los Angeles-area photographer Lori Fusaro send letters before an appointment. Teti asks clients to pick out a celebrity their dog resembles for clues about their relationship.
A bulldog owner named Tony Soprano, the mafia boss on the HBO series. The owner of a small mixed breed cited Cary Grant, "because he really knew how to charm the ladies with his dance moves".