Cats were friends of Chinese since ancient times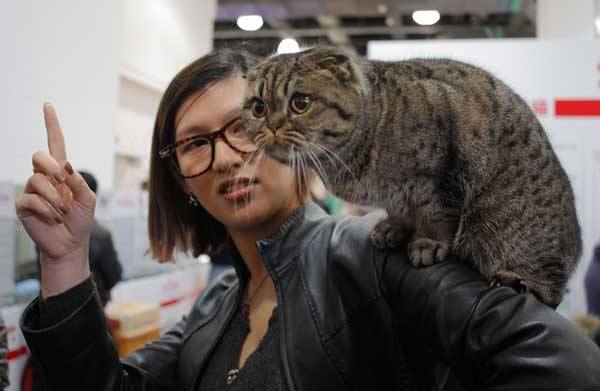 A woman participates in the 2013 Shanghai Pet Fair with her pet cat. Gao Erqiang/China Daily
Although cats may be one of the most popular pets today (there are an estimated 600 million worldwide), precious little is known about how and when humans and cats struck up their close relationship.
The earliest evidence for close human-cat interaction dates back to prehistoric Cyprus, where the remains of a wildcat and a human-dated 9,500 years old-were found buried together.
The earliest evidence of domesticated felines comes courtesy of Egyptian art dating back 4,000 years.
Between those years there has been a huge knowledge gap-until now.
A new study in the Proceedings of the National Academy of Sciences has confirmed the first direct evidence of a human-domestic cat relationship among Chinese farmers 5,300 years ago.
Researchers studied the bones of cats, dogs, deer and other animals unearthed in an excavation near Quanhucan, a village in Central China, led by the Institute of Archaeological Research of Shaanxi in 1997. Using radiocarbon dating and isotopic analysis of trace amounts of carbon and nitrogen, scientists were able to show that the cats were living on a mostly millet-based diet, just like the domesticated dogs and pigs from the site.
"The most reasonable explanation for a high consumption of millet-based food is that the cats had formed a stable and mutual relationship with humans and could easily prey on rodents around human villages, find leftover food or even have been fed by people intentionally," writes study co-author Hu Yaowu of the Chinese Academy of Sciences in Beijing.