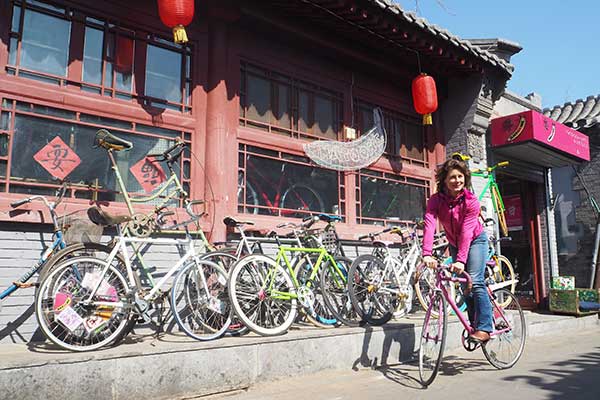 Ines Brunn, who first came to China to work as a physicist in 2001, opened her fixedgear bicycle workshop Natooke, located in Beijing's Wudaoying hutong in 2009.[Photo provided to China Daily]
Ines Brunn has become one of the city's most vocal advocates of a two-wheeled lifestyle
Ines Brunn loves bikes. The German has lived in Beijing for more than 10 years and in that time has had a lot to say about what the city should do to promote cycling.
Her passion for cycling is well known among expatriates in the capital.
Her activities revolving around two wheels include performing bike tricks at charity events and taking part in discussions about cycling as an unofficial spokeswoman for the cyclists of the city.
"I hope that people in the city think that cycling is very cool," she says in Beijing-accented Mandarin.
She has a bicycle shop called Natooke in the hip Wudaoying hutong in the city center that she opened in 2009, said to be the first workshop for fixed-gear bicycles in China.
At the time, cycling on single-speed bicycles emerged as a subculture in some Western countries, but Brunn could not find spare parts for her bike in China.
Eight years earlier when she had arrived in Beijing to work for a telecommunications company, the streets of the city were crammed with cyclists.
The great bulk of the bikes were either the chunky Chinese Pigeon brand or another Chinese brand, Forever.
However, at the start of the century sales of the brands were beginning to fall sharply.
In 2009 no more than 300 Flying Pigeons were produced, and it is easy to see why: that year China surpassed the United States to become the world's biggest car market by vehicles sold.