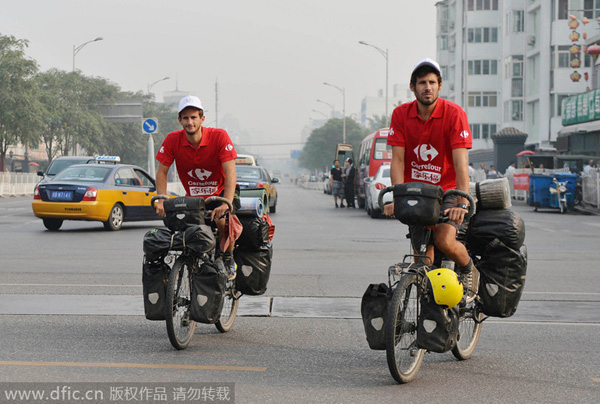 The pair traveled east along the Silk Road to mark the friendship between France and China. [Photo/IC]
Two French cyclists — Basile Pottier and Simon Poniard — arrived in Beijing on Sunday after cycling through 10 countries along the Silk Road from Paris to Beijing, to celebrate the 50th anniversary of China-French diplomatic ties.
The cyclists departed from the foot of a statue of Charles de Gaulle at the Grand Palais in Paris on January 27, the 50th anniversary of the establishment of China-France diplomatic relations.
The journey covered some 13,000 kilometers through 10 countries, including Italy, Greece, Turkey and Tajikistan.
The two men, both aged 27, had talked about making the trip since high school.
"Basile and I have had a dream to travel to the East since we were young," said Poniard. "Beijing has always fascinated me by both its rich ancient civilization, and its modernity. Now our dreams have come true. We are very proud of ourselves, and of those who have supported us along the journey."
On behalf of the French Embassy in Beijing, Fabrice Rousseau, the deputy cultural counselor gave a speech at a welcoming ceremony for the cyclists hosted by Hainan Airlines in Beijing on Sunday.