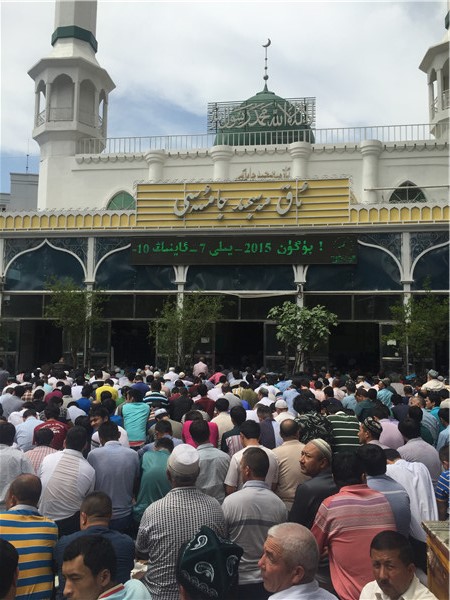 Muslims make prayer at the Baida Mosque in downtown Urumqi. [Photo by Hu Yongqi/China Daily]
It has always been a riddle to me how Muslims bear hunger and thirst during Ramadan, the month in which believers are required to abstain from eating and drinking during daylight hours. In a trip to the Xinjiang Uygur autonomous region that mystery was cleared up.
Apart from settling that matter on my trip to Xinjiang, I also fulfilled a long-held dream: getting a taste of Islamic culture in the autonomous region's capital, Urumqi, and Kashgar prefecture in southern Xinjiang.
Ramadan was marked from June 18 to July 17, and given the number of Muslims in Xinjiang, it is perhaps inevitable that the signs of this yearly ritual were pervasive. The region is home to more than 12 million Muslims-about 55 percent of the population-and there are 24,000 mosques, says Ma Pinyan, a researcher at the Xinjiang Academy of Social Sciences.
During the month, worldly matters are supposed to take a back seat for Muslims as they give full attention to matters of faith and the spirit, aided by long hours of abstinence from oral sustenance.