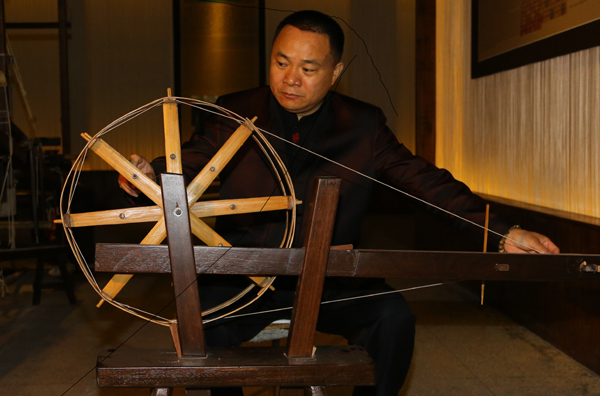 Wu Jianhua works on a Song Brocade loom. Photo provided to China Daily
Willowy showgirls wearing brocade cheongsam dresses stole the spotlight when they appeared at the many ceremonies during the 53rd World Table Tennis Championships, which ended on May 3 in Suzhou, East China's Jiangsu province.
Suzhou girls are famous for being "delicate", while the brocade, one of the "three celebrated brocades" in China, is called Song Brocade because it originated in the Song Dynasty (AD 960-1279) in Suzhou.
Chinese netizens took to Baidu Zhidao, the question and answer section on search engine Baidu, to ask: "The showgirls' clothes are so beautiful. Where can I get them?"
Song brocade has become a fashionable buzzword. At the welcome banquet of the Asia-Pacific Economic Cooperation meetings in November 2014, Chinese President Xi Jinping and his wife Peng Liyuan, US President Barack Obama, Russian President Vladimir Putin and other world leaders and their spouses all wore "new Chinese-style" coats and dresses made of the brocade.
Wu Jianhua, the Suzhou businessman credited with bringing Song Brocade out of museums and into the high street, has lived with silk all his life.
Wu was born in Shengze, a small town in suburban Suzhou that has been China's "silk capital" for a millennium. He grew up and established his business in the town. His family used to own a workshop producing silk products. Silk was a luxury when Wu was a child: He still remembers his grandfather's prized silk shirt and the soft feeling of the fabric against his skin when he was allowed to try it on.