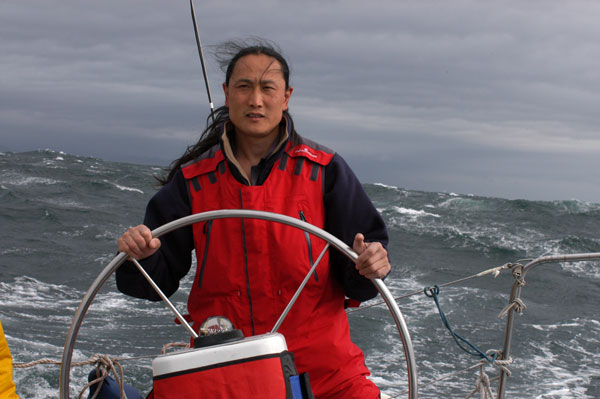 In 2006, Zhai toured the Japan Sea in his yacht. [Photo provided to China Daily]
Chinese navigator Zhai Mo plans to travel the route on his yacht, hoping to generate interest in local culture along the way.
Chinese navigator Zhai Mo, 46, is ready to set sail again. Five years ago, he finished his solo circumnavigation around the globe, and now he is determined to lead a group of people to follow the ancient Maritime Silk Road.
"Sailing can strengthen your body and restore your spirit. When you come back to land, you will have a deeper understanding of yourself and the world. If you can leave life and death out of consideration, what else will bother you?" Zhai says.
Zhai wants to promote China's diverse cultures at each of the ports along his Maritime Silk Road tour, starting in the spring.
China has a long history of maritime culture. For example, court eunuch and explorer Zheng He commanded seven naval expeditions to as far as East Africa from 1405 to 1433, sponsored by the Ming emperors.
"But we rarely talked about its heyday because of China's failures in sea warfare such as the First Sino-Japanese War of 1894-95," he says.
"It's important to spread Chinese culture via the voyage, because many Westerners don't know much about China. And China is developing very fast."