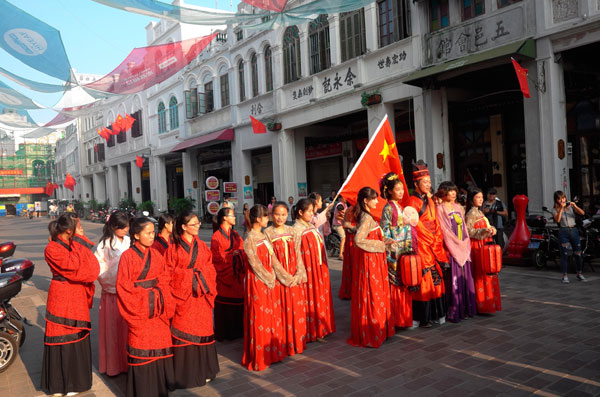 [Photo by Huang Yiming/China Daily]
There are also traditional temples nestled among the busy shops. One is dedicated to a legend who purportedly lived 1,500 years ago and was remembered for her management of the jurisdiction. People call her "Madam Xian" and she is said to have used her supernatural powers in the mid-19th century to drive away pirates. More accurately, it was her statue that exuded that power. And now, every spring, people would come to her temple to pray for peace.
"These old streets are Haikou's biggest cultural legacy," says Zhao Aihua, deputy director of the organization responsible for preserving historic Haikou. They were rundown and most turned into hardware stores in recent decades. "While other cities tore down their dilapidated buildings, we did not have the money for it, which turned out to be a blessing in disguise. We did not awake to a sense of heritage protection until after the year 2000."
The pace of renovation was unhurried. "We did only one-and-a-half streets in three years, and some people were impatient. We want to get it right rather than get it fast. That is the responsible way of handling this historical site," explains Zhao. For example, experts were hired to find out the original colors of the walls and only old materials and old craftsmanship were employed to ensure authenticity.
"Every street in the district will have a museum, which will be free to all visitors," adds Zhao. All this requires 550 million yuan in government spending, and the overall cost is even higher, about 4 billion yuan. But as the district regains its former splendor, locals are rediscovering it as if it's the lost soul of the city, and a sense of pride wells up as they walk down the pedestrian-only streets.