Hot time in Haikou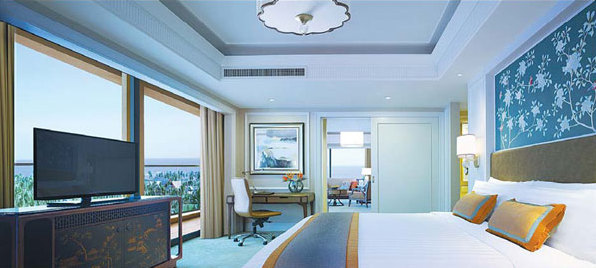 Shangri-La Hotel Haikou has more than 300 rooms, all facing Qiongzhou Strait and guests in any room have a view of pristine white sands and blue water. Provided to China Daily
The Shangri-La hotel helps guests luxuriate in a full range of tropical amenities, Li Fusheng reports.
The Shangri-La Hotel Haikou is offering visitors to China's southernmost province an alluring mix of tropical scenery and local color.
The 10-story hotel is set amid a small forest of palm and coconut trees on the west coast of Hainan Island, where guests are greeted by receptionists dressed in ethnic Li or Miao costumes.
It is Shangri-La's first property in Hainan and the hotel has more than 300 rooms, all facing Qiongzhou Strait so all guests have a view of pristine white sands and blue water as they savor mango and pawpaw fruit served free of charge.
Sometimes guests wile away the time watching the fishing boats that moor nearby.
"They are from the neighboring Zhenhai village. We buy our seafood directly from fishermen there," says Yang Xujun, the hotel's communications manager.
Among their catch is Indian Salmon mainly found in the waters near Xuwen county of Guangdong province across the strait.
Tender and rich in protein, the dish goes perfectly with local grapefruit sauce. It is available at the hotel's Shang Palace, a restaurant that also offers shellfish and such local signature dishes as Wenchang chicken.
Outdoor parties in the hotel's lush garden offer freshly barbecued or grilled seafood and cocktails.
After dinner, guests can walk along the sand and enjoy the gentle breeze or they can take a swim in the 790 square meter arch-shaped swimming pool kept at constant temperature of 26 C.
They can also luxuriate in one of the hotel's three hot springs whose temperatures range from 36 to 44 C.
The garden is also dotted with several pavilions built of local volcanic rock formed after eruptions thousands of years ago.
They not only give a natural look to the pavilions but also function as natural air conditioners due to their numerous honeycombs that preserve water for a long time.
To the right of the garden is a building under construction called the Hall of Splendor, Shangri-La's only seaside chapel in China. With a capacity of 150 people, it offers a stunning setting for seaside wedding parties and cocktail receptions, says Xu Jian. Also under construction is a detached two-story building that will offer Italian cuisine and a variety of seafood sourced both locally and from major seafood producing areas around the world.
The hotel is growing in popularity as Haikou receives more and more overnight travelers before they head to Sanya, says Xu.
Haikou has a deeper cultural connection with the mainland than towns on the south of the island, as evidenced by its Temple of Five Lords, he added.
The temple is a memorial to a high-ranking official in the Tang Dynasty (AD 618-907) and four from the Song Dynasty (960-1279) that were sent into exile in Hainan. Su Shi, a famous Song poet, is also commemorated near the temple.
In addition to holiday makers, the hotel is attracting business travelers because of its location adjacent to the Hainan International Exhibition Centre and the city's government departments, says Xu.