Holiday Inn Central Plaza Beijing wins big at Golden Horse Award Ceremony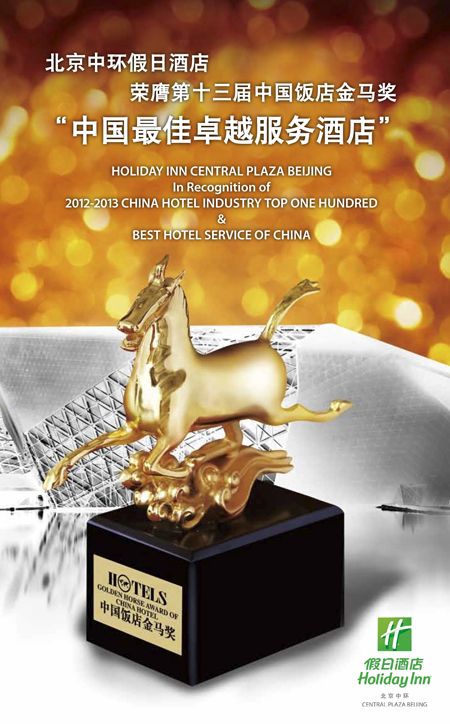 Photo provided to chinadaily.com.cn
On March 25, Holiday Inn Central Plaza Beijing was awarded "China's Top 100 hotels (2012-2013)" as well as the "Best Service Hotel" at the 13th China Hotel Golden Horse Award Ceremony in Guangzhou.
Chairman of the hotel board, Wei Jianping, who is also the executive vice president of the Homeowner Association of IHG's Greater China region, accepted the award at the ceremony.
This authoritative award is one of the most prestigious awards in the hotel industry. The distinction recognizes industry trends along with enterprising efforts and individual achievement.
The design of the trophy was inspired by Bronze Galloping Horse Treading on a Flying Swallow, which is meant to symbolize industry vanguards.
The selection process requires nominees to submit necessary materials, which is then followed by expert evaluations and public voting.
Before the final votes from the official judge's panel are released, the organizing committee selects a handful of VIPs to visit the nominated hotels, and the evaluations from those visits account for 20% of the result for the Golden Horse VIP experience.
As the flagship hotel of the Holiday Inn franchise in Beijing, it has previously received many awards in recognition of its high standard of customer service. Winning the Golden Horse award was indeed another milestone for the hotel.
Related: