OCT Group finds formula for success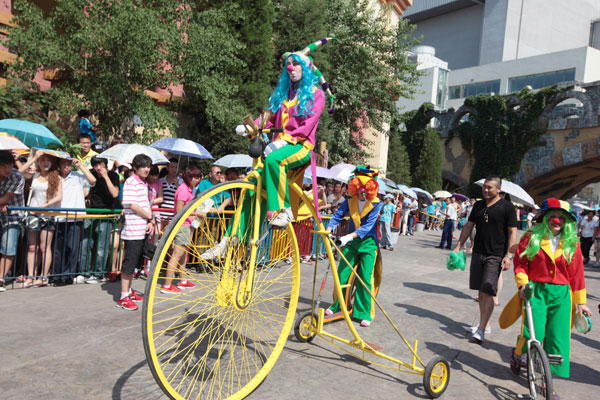 Performers ride giant tricycles at the Happy Valley amusement park in Beijing. DA WEI / FOR CHINA DAILY
The company earned 6.3 billion yuan ($1 billion) from its tourism and cultural sectors in 2011, and the figure surged to 10.5 billion yuan last year, registering a year-on-year increase of 66.7 percent, according to its financial report.
Its success in the theme park sector lies in its business model and its identity as a State-owned enterprise, analysts said.
Unlike other theme park developers, OCT Group excels in developing property and hotel business in the surrounding areas of its theme parks, as it is also a leading property and hotel developer nationwide in addition to its culture and tourism business.
"You can see that in the vicinity of almost every Happy Valley park, there will be a City Inn hotel, an economy-hotel chain brand owned by the OCT Group," said Yang Yanfeng, an associate professor at the China Tourism Academy.
Shao Gang, consulting director of EntGroup Consulting, a Beijing-based entertainment industry consultancy, said: "Generally speaking, for a mature and profitable theme park, the ticket sales take up about 30 percent of the total revenue, while the rest come from surrounding hotels, restaurants and other derivative products."
As a State-owned conglomerate, OCT Group has easy access to parcels of land conducive to commercial development because local governments are wooing State-owned companies' investments.
Local governments prefer investment projects initiated by State-owned enterprises over those by private counterparts, because the SOEs are financially stronger than private peers and they perform more cautiously on the projects, which gives local officials more confidence about the prospects of those projects, Yang said.
"Sometimes local authorities even change their regional development plan so as to cater to the State-owned enterprises' demands in investment," he said.
Regional governments also benefit from its theme parks because a theme park brings much more than the entertainment experience alone.
"It helps attract investment to the region, provide many employment opportunities to local residents, and increase local governments' tax income," Shao said.
"That's why the strategic investment department of OCT Group is always overwhelmed by the investment invitations from quite a number of local governments," Shao added.