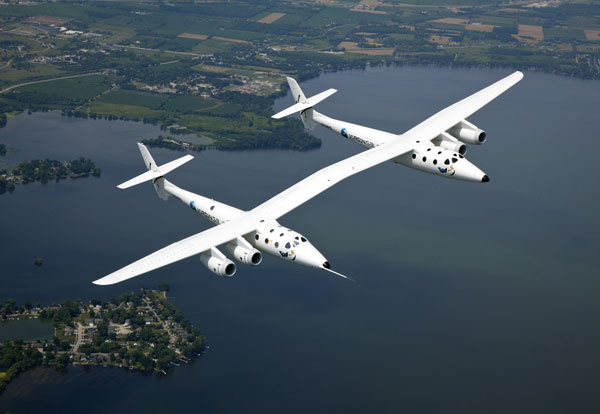 Virgin Galactic hopes US law will soon change to allow Chinese to take its private space flights.[Photo provided to China Daily]
Seeking adventure and a chance to show off, more of China's affluent are signing up for spaceflights. Erik Nilsson and Deng Zhangyu report.
The sky's no longer the limit for Chinese tourists.
Space is the final frontier for the country's wealthy travelers.
Most have already traveled to the ends of the Earth - many, like Beijing banker Tong Jingjing, have visited the poles - and some seek to journey even farther.
About 10 percent, or 32, of the people who've signed up for private space flights offered by the US company XCOR Aerospace are Chinese.
"There is new wealth being generated in China with much of it being young wealth, (people) who want to show off and be adventurous," Space Tourism Society founder and president John Spencer says.
"This is the same pattern that always happens in growing economies."
That may be why chief executive of XCOR's Asia operation Alex Tang told media that China's affluent seem more willing to travel into space than rich people in other countries.
A survey of 203 travelers by Shanghai's research company Hurun found 7 percent of the country's luxury travelers aspire to fly into space within three years. "China's rich history of explorers and achievement, and their influences on the rest of the world, makes the country an exciting and natural market for commercial space tourism," XCOR's competitor Virgin Galactic says in an e-mail interview.
However, Virgin Galactic can't carry passengers from about two-dozen countries, including China, because of US International Traffic in Arms restrictions.
"(But) upcoming rulings from the US government may enable Virgin Galactic to open its spaceflight service even more broadly in the not-too-distant future," the company says.
Du Xiyong, vice-president of XCOR's exclusive booking agency in China, Dexo Travel, says his company was surprised by its success selling tickets on China's biggest e-commerce site, Taobao.
"Most people have never heard of private space flights," he says.