Baikonur, Kazakhstan - A Russian-built rocket carrying a new US-Russian crew for the international space station, along with the world's first female space tourist, was set for blastoff from the desolate steppes of Kazakhstan on Monday.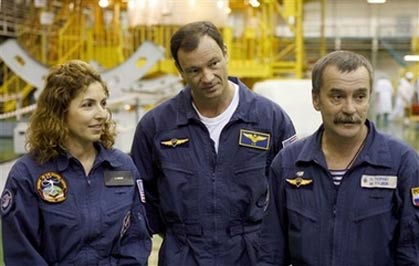 The crew of the next manned mission to the international space station, from left, entrepreneur Anousheh Ansari, astronaut Miguel Lopez-Alegria, and Russian cosmonaut Mikhail Tyurin talk during a training session at the Baikonur Cosmodrome, Kazakhstan, Sept. 13, 2006. Ansari paid about $20 million for a seat on a Russian rocket. The Soyuz capsule is scheduled to lift off from the Baikonur Cosmodrome on Sept. 18 and arrive at the station two days later. [AP Photo]
Engineers at Baikonur cosmodrome planned a midmorning launch local time for the Soyuz TMA-9 capsule, hours after the US space shuttle Atlantis will have pulled away from the orbiting station and begun its journey Earthward.
Russian cosmonaut Mikhail Tyurin and US astronaut Michael Lopez-Alegria will join German astronaut Thomas Reiter on the station two days after liftoff, replacing cosmonaut Pavel Vinogradov and astronaut Jeffrey Williams, who have been on the station since April.
Joining Tyurin and Lopez-Alegria in the ride up to the station on Monday, and Vinogradov and Williams on the ride down 10 days later, is Anousheh Ansari, an Iranian-American telecommunications entrepreneur who has paid a reported US$20 million to become the fourth private astronaut to take a trip on a Russian spacecraft and visit the space station.
At a news conference Sunday, Ansari, 40, defended the role of "space flight participants" and said she viewed herself as an ambassador for attracting private investment to space flight.
Ansari, who gave US$10 million in 2002 for the naming rights to a prize awarded to the first successful privately financed manned trip into space, said the Russian Soyuz-TMA capsule that will carry her, Tyurin and Lopez-Alegria to the station was not unlike the first-generation Russian space capsules from decades ago.
"In order to make great leaps in space exploration ... private companies and the government need to work together," she told reporters.
Astronaut Lopez-Alegria pointed out that space flight was not for the lighthearted, and said just a few years ago he was skeptical of private tourists. But he said now it was clear the Russian space program needed such investment and without the Russian space program, the US program would suffer.
"If that's the correct solution ... then not only is it good from the standpoint of supporting the Russian space program, but it's good for us as well," he said. Ansari's presence in space "is a great dream and a great hope not just for our country but for countries all around the world."
Cosmonaut Tyurin called Ansari "very professional" and said he felt like they had worked together for a decade already.
Ansari said she hoped seeing Earth from space for the first time would change her point of view of the planet.
"You'll see how small and how fragile the Earth is compared to the rest of the universe," she said. "It will give us a better sense of responsibility."
Ansari also explained her decision earlier to wear a patch with the colors of the Iranian flag, along with a US flag, on a jumpsuit during training in Moscow. Her blue jumpsuit Sunday featured an American flag on the left shoulder, along with other patches, but no Iranian colors.
"I wasn't trying to make a political statement, just a personal statement," she said. In Iran, where she lived until she was a teenager, "people will see someone born in Iran flying into space."
In the four days following the departure of the Atlantis, the station's current crew will shift a Progress supply ship to a different docking port to make way for the Soyuz, Atlantis will land back on Earth, and the Soyuz will dock at the station.
While at the station, Atlantis crew members oversaw a flurry of projects, including the installation of a 17 1/2-ton, US$372 million addition of two solar panel wings that will eventually provide a quarter of the station's power when completed by 2010.
During the six-month tenure of Tyurin and Lopez-Alegria, four space walks are planned, with as many as three to be conducted in January to help set up the station's permanent cooling system. Another will take place earlier to retrieve and install experiments on the station's exterior, US officials said.