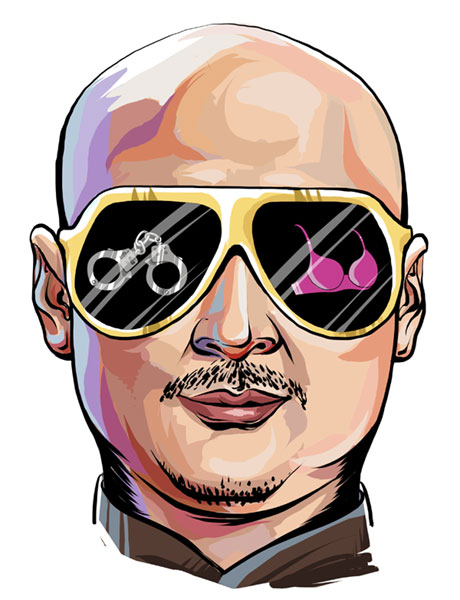 [Photo by Wang Xiaoying/China Daily]
A celebrated filmmaker caught in flagrante delicto with a prostitute is a catalyst for debate.
While the Chinese government's crackdown on official corruption is creating a lot of smoke, it is the crackdown on vice, especially when it involves showbusiness personalities, that is the real sizzle.
Not a month has gone by this year without a top-name entertainer arrested for illegal drug taking, hiring prostitutes/spousal cheating... OK, the last part has nothing to do with the police as it is still within the realm of ethics rather than that of the law for a movie star to have a mistress. But tabloids are green with envy because the government has preempted them on their biggest strength, which is, digging up dirt around entertainment celebrities.
The arrest of Wang Quan'an, director of Tuya's Marriage and a perennial favorite with the Berlin International Film Festival, has people scratching their heads. Unlike Huang Haibo, a popular actor who was caught patronizing hookers, Wang is married; and not only that, his wife is drop-dead gorgeous, and many online denizens say she is the woman of their dreams. Although no photo was made public of the prostitute Wang was with when arrested, many doubt the 31-year-old could hold a candle to his wife.
Armchair psychologists have offered many explanations: Some say Wang has an extremely strong sexual desire as the police report alleges he hired prostitutes three days in a row. Or he could be a victim of sexual addiction. (His actress-model wife was away on assignment in New York.) Others say he has certain proclivities because he is said to have been involved in a sexual threesome on one of the three days.
There is a lengthy piece with lots of academic jargon arguing that human beings, especially males, are incapable of being loyal to a single partner. It lists animal tests in which the male was engaged in sex with a group of females until he was exhausted. Just when you think he could not be tempted by any of them, a new female shows up, and he is alive again.
The traditionalists, on the other hand, stick to moral depravity as the main culprit. That and too much money and too much free time. As the Chinese saying goes, "When one is well fed and well clothed, one starts to think of his sexual needs."
Zhang Yuqi, Wang's wife, got a lot of praise for her timely response. She wrote on her weibo: "First I want to thank everyone for caring for me and my family. I feel torn right now. The incident, as it affects public order, will be handled with justice by the law-enforcement authorities, I believe. As for its impact on my family, the two of us will face it and bear it together."
Many tea-leaf readers have interpreted it as a sign of forgiveness on her part.