CHARLOTTE, N.C. - Even without their leading scorer, the Charlotte Hornets finally found a way to beat LeBron James.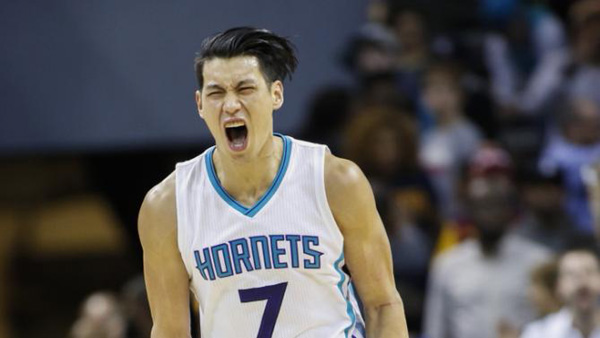 Charlotte Hornets guard Jeremy Lin reacts after scoring against the Cleveland Cavaliers during the second half of an NBA basketball game Wednesday, Feb. 3, 2016, in Charlotte, N.C. Charlotte won 106-97.  [Photo/Agencies]
Jeremy Lin scored 24 points and the Hornets rallied in the second half for a 106-97 victory over James and the Eastern Conference-leading Cleveland Cavaliers on Wednesday night.
Michael Kidd-Gilchrist had 11 points and 13 rebounds, and three other players finished in double figures for the Hornets, who played without ailing point guard Kemba Walker.
With some tough second-half defense, Charlotte overcame a nine-point halftime deficit to snap a four-game losing streak against the Cavaliers.
"Kemba, honestly, is irreplaceable. We all know that," said Lin, who also had eight assists. "(But) we feel like if everyone can chip in a little bit, we can try to make up for his absence."
The Hornets ended James' personal 21-game winning streak against the franchise. The team's last victory against him before Wednesday came on Feb. 19, 2010, during James' first stint with the Cavaliers.
"Tonight, we were just trying to stay aggressive and take the fight to them," Lin said.
Marvin Williams added 16 points, Frank Kaminski had 15 off the bench and Nicholas Batum scored 10 for Charlotte, which trailed 58-49 at halftime.
But the Hornets outscored Cleveland 33-17 in the third quarter to take an 82-75 lead. They went on to lead by as many as 15 late in the fourth.
"We fought hard, and the bench play in both halves was really good," Charlotte coach Steve Clifford said. "We were much more balanced than we've been."
"We've won some games where we were good on offense and some where we were really good on defense, but tonight we were good on both."
Kyrie Irving had 26 points and James added 23 for the Cavaliers, who had won five straight. J.R. Smith scored 14 and Kevin Love had 12 points and 12 rebounds.
Irving gave the Cavaliers their final lead, hitting a layup with 6:36 left in the third quarter that put Cleveland up 69-67. Lin followed with a three-point play 28 seconds later to put the Hornets ahead to stay.
"That's the third game in a row where we have struggled to come out in the third quarter," Cavaliers coach Tyronn Lue said. "We have to do something to adjust that situation."
Charlotte's biggest lead came with less than 5 minutes remaining, when Kidd-Gilchrist knocked down a jumper to put the Hornets up 98-83. The Cavaliers got no closer than six the rest of the way.
"We're (terrible) in the third quarter right now," James said. "We need to figure it out. I don't know what it is. I know Coach and the coaching staff are trying to pinpoint what the case may be.
"We're doing a good job of playing great basketball in the first half, but our third quarters are pretty awful right now. We've got to figure that out."
James is 41-6 against Charlotte, covering the time he's spent with Cleveland and the Miami Heat.
Walker sat out with a sore left knee, but Charlotte had three other players return to the lineup after missing playing time over the past week.
Batum had missed four of the past six games with a sprained right toe, C Cody Zeller the past six games with a strained right shoulder, and G Jeremy Lamb had missed five straight games with a strained right toe.
The only other key Charlotte player still out of the lineup is C Al Jefferson, who has been sidelined since Dec. 31 while recovering from surgery on his right knee. But he was cleared to begin non-contact and conditioning drills last week.