BUENOS AIRES -- Argentinean tennis player Juan Martin del Potro, who won the US Open in 2009, confirmed Wednesday that he is making his return to the ATP World Tour after almost a year of inactivity.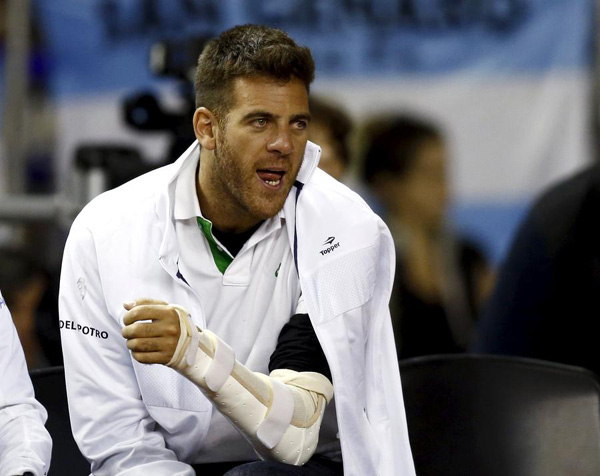 Argentina's tennis player Juan Martin Del Potro, who underwent an operation on his left wrist last June, cheers Argentina's Federico Delbonis during his Davis Cup tennis match against Serbia's Viktor Troicki in Buenos Aires, July 17, 2015.  [Photo/Agencies]
"I will be in Delray Beach. I am very happy to get back to playing. I do ask for your patience as my return to the courts is part of my rehabilitation," said Del Potro in a video published on his official YouTube account.
His return will take place on February 15 at the Delray Beach Open in Florida, a tournament he won in 2011.
The bronze medalist at the London 2012 Olympics and former world No. 4 thanked his fans for the support they have given him, while adding that he did not know how many tournaments he would contest this year.
"I have still not decided how many tournaments I will play, it will depend on how I feel physically," said Del Potro, who has racked up 18 wins on the tour.
The Argentinean, born in Tandil, 350km south of Buenos Aires, was operated in June for the third time in 15 months on his left wrist, an injury which has threatened to end his professional career.
Del Potro won the biggest win of his career in 2009, when he won the US Open, and climbed to No. 4 in the world rankings in 2010, the year he first injured his wrist.
In 2012, he became the first Argentinean to win an Olympic medal in men's individual competition, beating Novak Djokovic for the bronze.