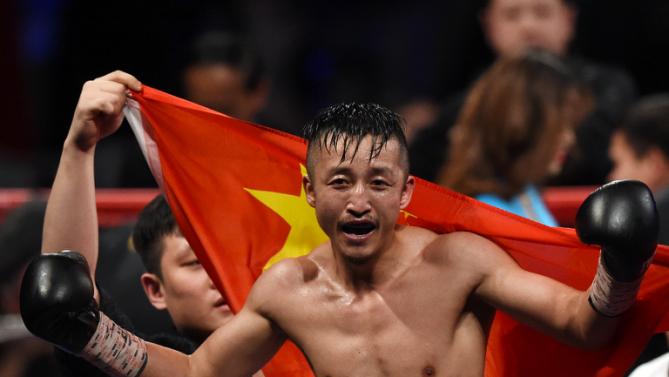 Zou Shiming of China celebrates after winning against Natan Coutinho of Brazil in their WBO international flyweight boxing title bout in Shanghai on January 30, 2016.  [Photo/Agencies]
Former WBO International Flyweight Champion Zou Shiming recaptured the title by defeating Brazilian Natan Santana Coutinho by TKO in the eighth round in Shanghai. Billed as 'The Return of the King,' the second event in the Top Rank and SECA organized Chinese League of Fists professional boxing venture, attracted a sizable crowd in Shanghai.
A three-time Olympic medallist who won China's first ever boxing gold medal in 2008, Zou was fighting his eighth professional match in China. In the first two round, Zou was very active on attacking his opponent. The Brazilian had a good defence and it is difficult to form an effective attack for Zou Shiming.
Coutinho was happy to play to the crowd. He playfully gyrated at Zou twice in the first two rounds of the match as the two were evenly matched.
However, by the eighth round, Zou had established a couple of strong flurries.
By the 2:34 minute mark of that round, he had cornered Coutinho landing a series of blows that caused the referee to call the match a TKO.  The fight marked Zou's return to the ring since losing an IBF Flyweight title match to Thailand's Amnat Ruenroeng last March.