LONDON - Pius Schwizer and PSG Future snatched a thrilling last-to-go victory for Switzerland in the penultimate leg of the Longines FEI World Cup Jumping 2015/2016 Western European League here on Sunday.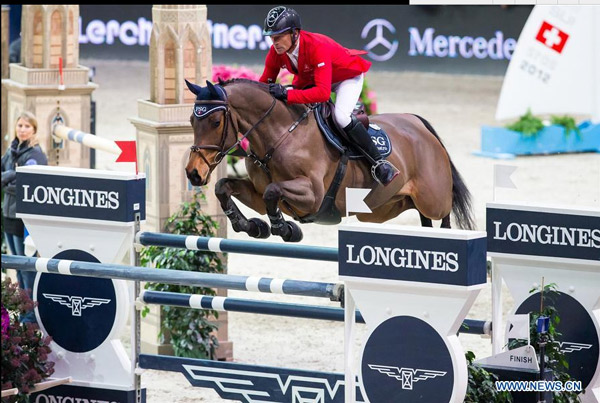 Swiss Pius Schwizer competes at the Longines FEI World Cup Jumping Western European League in Zurich, Switzerland, on Jan. 31, 2016. Pius Schwizer claimed the champion. [Photo/Agencies]
Ireland's Denis Lynch claimed his second runner-up finishing spot in a row with All Star, while Australia's Edwina Alexander lined up third with Caretina de Joter.
The day's result has seriously boosted Lynch's position on the Western European League leaderboard, with 17 points rocketing him up to 13th spot. Now with a total of 34 points, the Irishman is well within sight of a top-18 qualifying spot for the final which will take place in Gothenburg from 23-28 March.
Schwizer however still has some work to do if he is to make the cut. A maximum 20 points still only leave him on a total of 24. He will be doing serious battle at the last qualifying leg in Bordeaux next Saturday.
Lynch's 13-year-old All Star jumped big and clean and he's been in the form of his life over the last few weeks. Setting off with complete determination the pair stormed home without fault in 42.34 seconds to set another new target and put it right up to Schwizer as the final competitor.
But the 53-year-old Swiss blasted through the finish in 41.97 seconds to settle the matter. This was his second FEI World Cup victory at Zurich, previously topping the line-up in 2014 with Toulago.
He said, "Future was already good here in Zurich on Friday, and today everything fell in place for a win but of course you have to bring it home and that's not easy. I really wanted the win and not to finish second or third because I wanted to do well in front of my home people here in Switzerland."