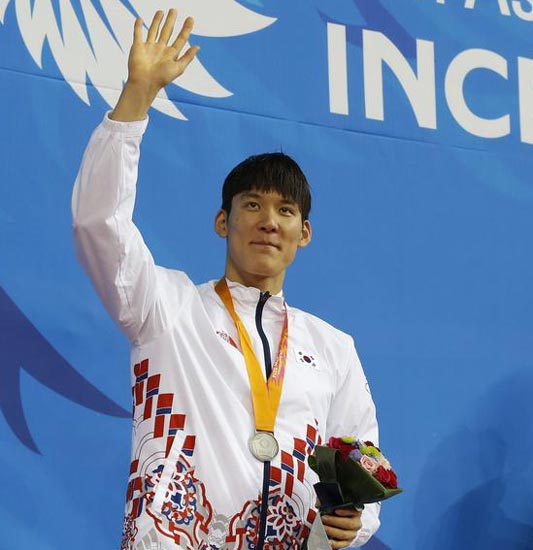 Silver medallist Park Tae-hwan (L) of South Korea gestures on the podium at an award ceremony at the Munhak Park Tae-hwan Aquatics Center during the 17th Asian Games in Incheon September 25, 2014. [Photo/Agencies]
SEOUL, South Korea - South Korea's Olympic body said Thursday it is considering easing its eligibility rules for athletes entering international competitions, which would allow banned former Olympic swimming champion Park Tae-hwan a chance at qualifying for the 2016 Olympic Games in Brazil.
The organization is reviewing whether its rule that bans athletes suspended for doping from competing with the national team for an additional three years after the end of their suspensions is unfair or excessive, Korean Olympic Committee official Park Dong-hee said.
Park Tae-hwan, who won the 400-meter freestyle at the 2008 Beijing Olympics, received an 18-month ban from world swimming governing body FINA on Monday after testing positive for testosterone in an out-of-competition drug test. The KOC's current rule, which was introduced last year, prevents Park from competing in Rio. The FINA ban began retroactively the day of the positive test in early September and will expire on March 2, 2016.
"We will never bend our rules for the interest of an individual athlete, but it is true that the suspension of Park Tae-hwan triggered a debate on whether the rule is legally appropriate," Park Dong-hee said.
The KOC's competition and disciplinary committees will review the rule before the organization's board of directors makes a decision on it, a process that normally takes about three months, he added.