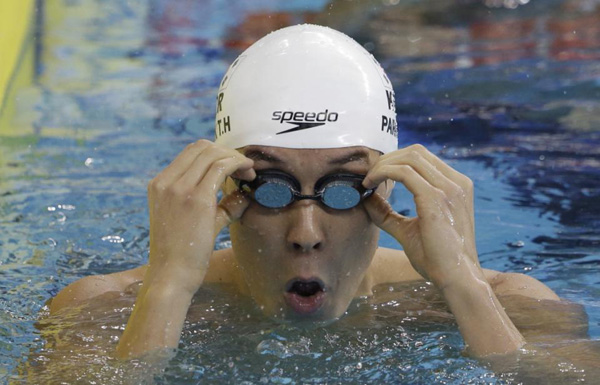 In this Sept. 21, 2014 file photo, South Korea's Park Tae-hwan adjusts his goggles after competing a men's 200-meter freestyle swimming heat at the 17th Asian Games in Incheon, Former Olympic swimming champion Park Tae-hwan of South Korea has been banned 18 months for doping.  [Photo/Agencies]
GENEVA - South Korean swimming star Park Tae-hwan was banned 18 months by world swimming body FINA on Monday after failing a drug test last year.
The ban will run until March 2, 2016 which rules him out of this year's world championships in Kazan, Russia from July 17 to August 2, but allow him to compete at the Rio Olympics.
The 25-year-old tested positive for a banned anabolic steroid at an out-of-competition control before the Asian Games on September 3 last year.
Swimming governing body FINA said that Park's results from Sept. 3 onward will be annulled and prize money forfeited, meaning he will have to return the three individual medals and three relay medals he won at last year's Asian Games.
When the positive test was announced in January, Park's representatives blamed it on an injection administered by a local hospital, which offered him free chiropractic and other treatments in July.
Park argued that he was given the injection without knowing what specific substances it contained, while the hospital said it didn't know testosterone was a prohibited substance.
Park won the 400-meter freestyle at the 2008 Beijing Olympics. He also took silver in the 200 free in Beijing and silvers in both events at the 2012 London Games.