Badminton world number one Lee Chong Wei has denied cheating or relying on banned substances despite failing a doping test that could lead to a two-year ban.
The Badminton Association of Malaysia confirmed on Saturday that one of their players had tested positive for the banned steroid dexamethasone but withheld the individual's identity.
However, the 32-year-old Lee posted messages on his official Twitter and Facebook accounts thanking fans for their support and denying using drugs to gain an advantage.
"I just want to thank every one of you who had faith in me through this difficult times. There are so many unanswered questions and I hope to clear my name soon," he wrote.
"I never cheated nor will I ever rely on banned substances."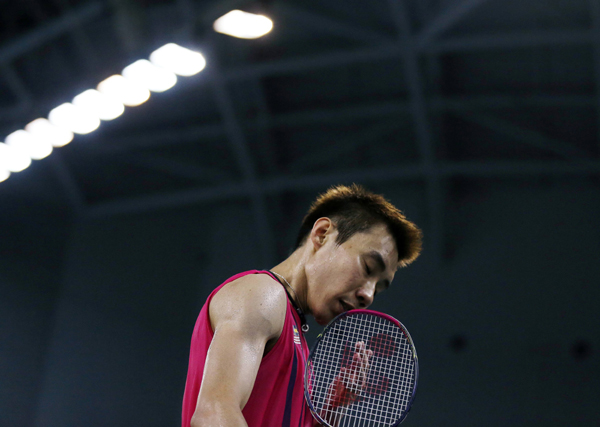 Malaysia's Lee Chong Wei reacts after losing a point against China's Lin Dan during the men's singles semi-final badminton match at Gyeyang Gymnasium at the 17th Asian Games in Incheon in this September 28, 2014 file photo. [Photo/Agencies]
Lee also posted a link to an interview with a Malaysian sports blogger entitled "My story by Lee Chong Wei", in which he spoke of his devastation at the positive test.
Malaysia's best-known sportsman, Lee travelled to Oslo last week to have his "B" sample tested after the initial sample showed signs of the steroid, which is used to treat inflammatory conditions.
The samples were taken at the world championships in Denmark in August, where Lee finished runner-up in the men's singles for the third time.
Under the World Anti-Doping Agency (WADA) code a first doping offence carries a two-year ban, which would rule him out of the 2016 Olympics in Rio de Janeiro.
Lee said in April he intended to play on until the 2016 Games in the hope he would finally win a gold medal to go with the silvers from Beijing in 2008 and London four years later.
He is now also likely to at the very least lose the silver medal he won at this year's world championships.