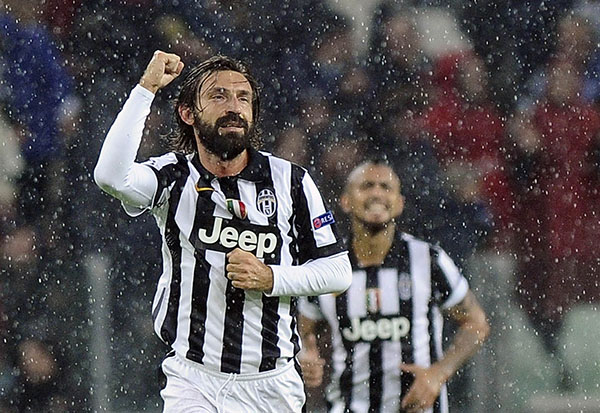 Juventus' Andrea Pirlo celebrates after scoring against Olympiakos during their Champions League soccer match at Juventus stadium in Turin, November 4, 2014. [Photo/Agencies]
TURIN, Italy - Juventus scored twice in a minute as they came from behind to clinch a dramatic 3-2 win over Olympiakos after Andrea Pirlo had celebrated his 100th Champions League appearance by scoring from a characteristically effortless free kick on Tuesday.
Pirlo's heir apparent Paul Pogba scored the winner as Juve revived their campaign in Group A although they could regret a stoppage time penalty miss by Arturo Vidal which would have given them the better head-to-head record against the Greek champions.
As it was, Olympiakos, who had Juventus in real trouble when they took a 2-1 lead through Congolese midfielder Delvin N'Dinga in the second half, will come out on top if the two sides finish level on points thanks to their 1-0 win two weeks ago.
Olympiakos goalkeeper Roberto gave away an unlucky own goal to make it 2-2 but then turned hero again as he somehow managed to turn Vidal's ferocious effort onto the bar.
Both teams have six points from four games, three behind leaders Atletico Madrid.
Pirlo, 35, and slowly re-finding his best form, chalked up his 100th appearance in the competition, a run which began when he came on as a substitute for Brazilian striker Ronaldo for Inter Milan against Real Madrid in 1998.
He made most of his appearances during a 10-year spell with AC Milan, winning the trophy in 2003 and 2007 although he also played in the 2005 final when his side famously squandered a 3-0 lead to Liverpool.
The bearded playmaker celebrated in style as he effortlessly curled in a free kick in the 21st minute to give Juventus the start they needed after successive defeats to Atletico Madrid and Olympiakos.