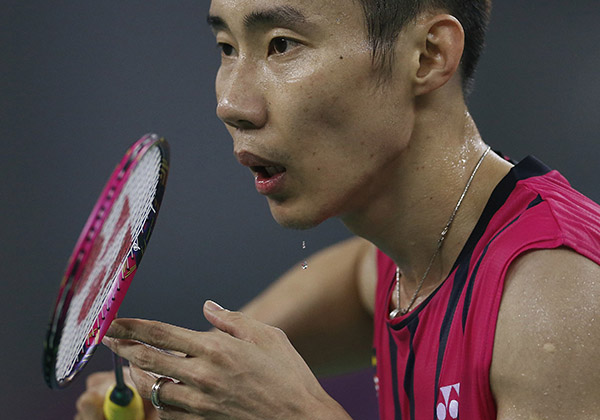 Malaysia's Lee Chong Wei sweats as he waits to return a serve against Vietnam during the men's singles quarter final badminton match at Gyeyang Gymnasium, at the 17th Asian Games in Incheon in this September 27, 2014 file photo. [Photo/Agencies]
Factbox on badminton player Lee Chong Wei, who faces a two-year ban after failing a dope test:
EARLY DAYS
Born on Oct 21, 1982 in Bagan Serai, Perak, Lee was a 10-year-old student when he started playing badminton.
Lee grew up admiring former world number one Sun Jun of China.
He made his international debut at the 2000 Asian Junior Championships.
Lee has been a member of Malaysia's national team since 1999.
HONOURS
Lee won silver medals at 2008 Beijing and 2012 London Olympics -- going down to Lin Dan in both finals.
His two silver medals make him the most successful Malaysian in Olympic history.
He was conferred the title "Dato" after his silver medal in the 2008 Beijing Olympics. It also earned him a lifetime monthly pension.
He has won three silver medals and a bronze at the world championships.
Lee was part of the silver medal winning Malaysian team at the 2014 Thomas Cup.
He won the silver at the 2010 Asian Games.
Lee is a four-time Commonwealth Games gold medallist - two each in singles and men's team events.
Lee, who won 55 titles, was named the BWF Player of the Year awards four times -- in 2009, 2010, 2011 and 2013.
Lee has a 552-108 win-loss ratio.
The Malaysian trails 9-22 in head-to-head with his great rival, China's Lin Dan.