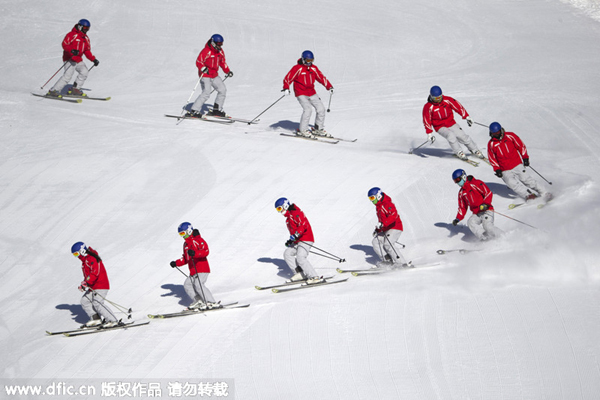 Skiers perform at the opening ceremony for the 14th Chongli International Ski festival near Zhangjiakou in northern China's Hebei province, Dec 6, 2014. [Photo/IC]
Beijing's mayor intends to show the International Olympic Committee's evaluation commission a well-prepared bid for the 2022 Winter Olympics as well as a vibrant city image.
China's Sports Minister Liu Peng and Wang Anshun, Beijing mayor and president of the Beijing 2022 Bid Committee, welcomed Alexander Zhukov, chairman of the IOC evaluation commission and Russian IOC member at Beijing Capital International Airport on Monday, marking the arrival of the 19 members of the commission.
"We are ready to demonstrate that Beijing is the right choice for the Olympic Movement to host the 2022 Olympic and Paralympic Winter Games," Wang said upon Zhukov's arrival.
The commission will on Tuesday start a five-day inspection tour of Beijing, which made the candidate city list with co-host city Zhangjiakou in surrounding Hebei province in July last year.
Wang stressed that Beijing will present to the world a new image of the metropolis through the bid.
"We have developed a highly robust Games concept, founded on athlete-centered, sustainable and economical principles. For the Olympic family, athletes and fans, Beijing 2022 would provide an unrivalled experience to enjoy the vibrancy of a major cosmopolitan city and winter sports scenery in the same day."
"For the evaluation commission members who recall Beijing from the 2008 Olympic and Paralympic Games, they will see the tremendous changes that the city has undergone as a result and catch a glimpse of the endless new opportunities that the 2022 Olympic and Paralympic Games can bring".
The inspection team will assess the plans through visits to proposed venues and receiving in-depth briefings on the bid's vision.
The program was developed in line with Olympic Agenda 2020 recommendations, which include aims to reduce costs associated with bidding and an assessment of sustainability and legacy aspects.
Motivated by President Xi Jinping's remark that "the bid will inspire over 300 million Chinese to participate in winter sports", the government launched the "300 Million People Winter Sports Plan" in an effort to involve more young people in winter sports and contribute to the development of the Olympic cause.
The commission will publish its report and distribute it to all IOC members prior to the host city election in Kuala Lumpur, Malaysia on July 31.