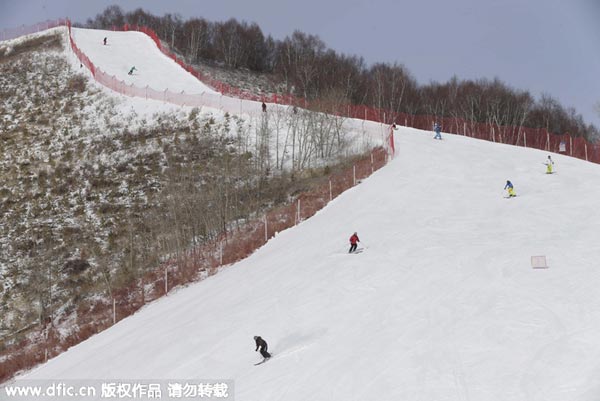 Skiing enthusiasts go down a slope at a ski resort being proposed as an events venue for the 2022 Winter Olympic Games, in Zhangjiakou city, Hebei province, January 17, 2015. [Photo/IC]
BEIJING - With less than five months to go before the International Olympic Committee chooses the host city for the 2022 Winter Olympics, sports officials and advisers have made their predictions about the race between Beijing and Almaty of Kazakhstan.
"I think it's 50-50 against Kazakhstan's Almaty," Wei Jizhong, a former Chinese Olympic Committee vice president who had also been the world volleyball chief for four years, told Xinhua.
"Both cities have the capability to host the Games. And the question is which city is more suitable for the 2022 Winter Games."
Almaty and Beijing are the only cities left in the bid race for the 2022 Games after Stockholm, Krakow, Lviv and Oslo all pulled out.
The IOC Evaluation Commission will visit Beijing from March 24 to 28 before a final decision is scheduled to be made at the IOC Session in Kuala Lumpur on July 31.
Beijing's advantages
According to China's Lu Shengrong, the former world badminton chief and IOC member for 1996-2001, experience is an advantage for Beijing where 2008 Summer Olympics was staged successfully.
"I am optimistic," Lu said. "Beijing has an advantage, or experience, that any other cities don't."
Lu stressed the "smoothest communication and cooperation between the host city and the IOC in the Olympic history" during Beijing's preparation for the 2008 Summer Olympics.
"Our bid is in line with the IOC's 2020 Agenda," said Yang Yang, who is an IOC member and China's first ever winter Olympic gold winner.
As Yang said, the Beijing 2022 Olympic Winter Games Bid Committee has paid high attention to complying with IOC's reforms.