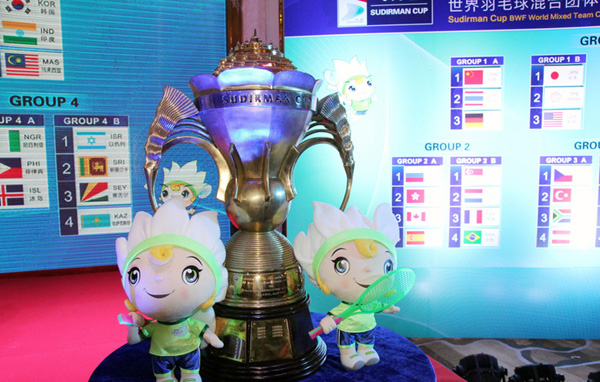 Mascots of the 2015 VIVO Sudirman Cup BWF World Mixed Team Championships are seen at the draw ceremony in Dongguan of South China's Guangdong province March 16, 2015. [Photo/IC]
Monday morning's live draw of the 2015 VIVO Sudirman Cup BWF (Badminton World Federation) World Mixed Team Championships has revealed that China will play against Thailand and Germany in the opening round-robin stage of the event.
The draw, in the host city of Dongguan in South China's Guangdong province, also placed Japan against Chinese Taipei and the United States, Denmark against Indonesia and England, and Republic of Korea against India and Malaysia.
The international badminton tournament, due to take place from May 10 to 17, will host a total of 35 teams worldwide.
Russia, Hong Kong, Canada and Spain will vie for honors in Group 2A, while Singapore, the Netherlands, France and Brazil will compete in Group 2B.
Group 3A has Czech Republic, Turkey, South Africa and Austria, while Group 3B has Vietnam, Australia, Italy and Switzerland.
Group 4A has only three teams: Nigeria, the Philippines, and Iceland, while Group 4B has Israel, Sri Lanka, Seychelles and Kazakhstan.
Venugopal Mahalingam, a representative of the BWF, spoke highly of the preparatory work for the forthcoming event.
"I must say China Badminton Association together with the local host has set a very high standard in organizing the Sudirman Cup, especially in the live draw ceremony," he said when he addressed the ceremony.
"They have set a very good example to the rest of the world how important a live draw is. This shows their commitment and seriousness to the sport. They have done a tremendous job and have delivered to BWF expectations."