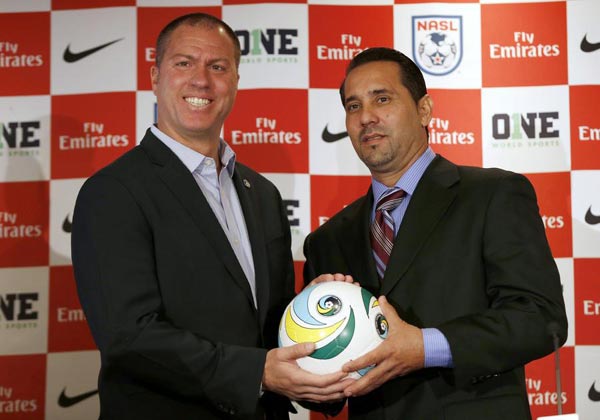 Giovanni Savarese (L), Head Coach of the New York Cosmos of the North American Soccer League poses for photographers with Walter Benitez (R), Head Coach of the Cuban national team at a news conference in New York, March 16, 2015. The Cosmos announced that they will play a match against the Cuban national team in Havana, Cuba on June 2, 2015. [Photo/Agencies]
NEW YORK - The coaches of the New York Cosmos and Cuba national soccer teams jointly announced Monday they will play a June 2 match in Havana.
The announcement comes amid talks by Washington and Havana to work toward the restoration of diplomatic relations between the former Cold War foes. The Cuban and Cosmos teams conducted their own negotiations in January, during a CONCACAF Under-20 tournament in Jamaica.
"Everything happened very quickly," Cosmos president Seamus O'Brien said of the match, which both sides call an act of sports diplomacy. "Everything was done in a couple of weeks."
The Cosmos will be the first professional US soccer club to play on the island in 37 years. The now-defunct professional Chicago Sting played in Cuba in 1978, while the amateur US national team played a World Cup qualifier there in 2008.
"When I was told that there was a chance of facing the Cosmos, I quickly said 'yes,' because I was aware of this club, their history, their prestige," Walter Benitez, the Cuban team coach said in a press conference. "Now I realize that this is bigger than I figured."
The Cosmos compete in the second-tier North American Soccer League. The team's roster includes Raul Gonzalez, a longtime star with Spain's national team and club powerhouse Real Madrid. Pele and Franz Beckenbauer, at the sunset of their careers, played with the team during its heyday in the 1970s and 1980s.
The announcement follows the Dec 17 announcement by both governments that they would negotiate the restoration of relations severed after the 1959 Cuban revolution.
US Rep. Charles Rangel, a Democrat who is a critic of the American trade embargo against Cuba, praised the match. He said was in Havana when US presidents Barack Obama and Raul Castro announced they would work toward restored relations.
"There were two things that all the Cubans said that they loved about the United States: One was sports and the other was every damn thing else," Rangel said.