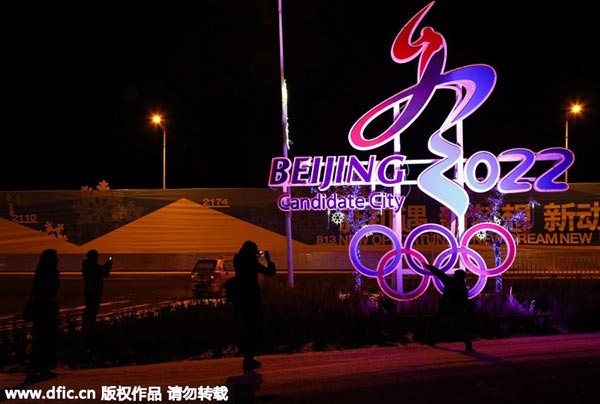 Chinese citizens take photos beside a lighted sign promoting the 'Beijing 2022' Olympic bid in Zhangjiakou city, Hebei province, January 16, 2015. [Photo/IC]
In January, Beijing handed over its official bid to IOC promising to deliver an "athletes-centered, sustainable and economical" Olympics.
IOC president Thomas Bach had said that Beijing's vision complied with IOC's reforms.
According to the bid book, venues from the Beijing 2008 Olympics, including the Water Cube Aquatics Center and the National Indoor Stadium, will be used for the 2022 Games. And some snow facilities will be built in Zhangjiakou, some 200 kilometers northwest of Beijing, if the Chinese capital wins the bid.
Construction of a high-speed railway line between Beijing and Zhangjiakou will start this year, which will reduce the travel time between the two cities from more than three hours to about 50 minutes.
Former NBA star Yao Ming, an official ambassador of the 2022 bid, said Beijing's infrastructure and experience made it "a prime candidate".
Public support can be listed as another positive factor for Beijing, too.
According to an opinion poll conducted last year by Ipsos, a global market research company, 94.8 percent of the Chinese people, including 91.8 percent in Beijing and 99.5 percent in Zhangjiakou, support the 2022 bid.
Chinese political advisers have also expressed their confidence in Beijing's bid at the annual session of the National Committee of Chinese People's Political Consultative Conference (CPPCC).
"As former IOC president Jacques Rogge said, the 2008 Beijing Olympics was 'truly exceptional'. I believe if the IOC awards Beijing the 2022 Games, we can also deliver one of the best Winter Olympics in history," said CPPCC member Bian Zhiliang.