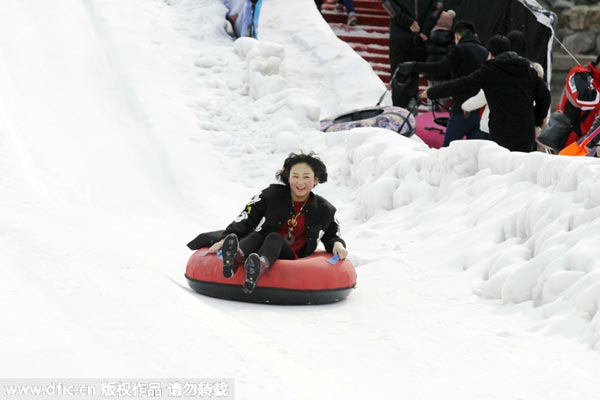 A skiing enthusiast plays at a ski resort in Beijing, Feb 1, 2015. [Photo/IC]
Almay's Olympic dream
Almaty, the former capital and commercial center of Kazakhstan in central Asia, has already made two unsuccessful attempts to land the event, having lost out to last year's host Sochi for 2014 and Pyeongchang for 2018.
Perhaps its undeveloped infrastructure and lack of experiences in hosting major events was the main reason that Almaty did not even make the shortlists for the last two times.
Almaty has co-hosted with Astana the 2011 Asian Winter Games and will stage the Winter University Games in 2017, but the magnitude of those events was no match with the Olympic Games.
Another drawback is that the weathered and sometimes single lane roads linking the mountains, especially the Ak Bulak cluster, and downtown could cause logistics challenges. But with the 2017 plan for the Universiade Almaty officials claim that this will be addressed.
The merits of the Almaty 2022 bid, however, are equally impressive - compactness and sustainability, which are fully in line with the Olympic Agenda 2020, the series of 40 reforms passed by the International Olympic Committee last December.
"We want to fit the Olympic Games to the city, not to create the city for the Olympic Games," said Andrey Kryukov, vice-chairman of the Almaty bid.
Almaty claims to have the most compact bid in three decades, with all venues within a 35-kilometer radius of the main Olympics Village, which means the logistics convenience for athletes, media and delegates. In addition, eight of the 14 proposed venues are already in place and another three are being constructed for the 2017 Winter Universiade.
The IOC had completed its five-day inspection tour to Almaty on Feb 18. The Evaluation Commission headed by Alexander Zhukov was impressed with Almaty 2022's efforts to adapt to the Olympic Agenda 2020.
"The Almaty bid committee took full advantage of the flexibility offered by Agenda 2020 to optimize bid proposals," said the Russian IOC member.
"They advanced goals of sustainability, legacy and cost containment without comprising on the core requirements for the Olympic Games."
Whatever happens, the 2022 race will end in another Games in Asia, meaning that three successive Olympics will be held on the world's largest continent, following Pyeongchang 2018 and Tokyo 2020.