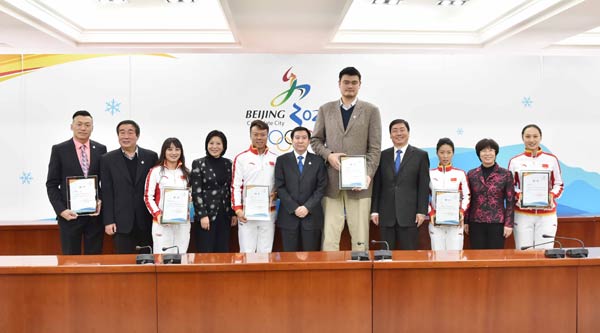 Promotion ambassadors of the Beijing 2022 Winter Olympic Games, including former NBA star Yao Ming, center, Shen Xue, third right, Zhao Hongbo, fifth left, Zhang Hong, right, Li Nina, third left, and Hou Bin, left, accept offers from the Beijing 2022 Winter Olympic Games Bid Committee in Beijing on Feb 10, 2015. [Photo/Xinhua]
BEIJING -- With Beijing widely seen as an odds-on favorite for the 2022 Winter Olympics Games though, a former top Chinese sports official played down the hype on Wednesday.
"I think it's 50-50 against Kazakhstan's Almaty," said Wei Jizhong, a former Chinese Olympic Committee vice president who had also been the world volleyball chief for four years.
"Both cities have the capability to host the Games. And the question is, which city is more suitable for the 2022 Winter Games."
The International Olympic Committee (IOC) evaluation commission will visit Beijing from March 24 to 28 before a final decision is scheduled to be made at the IOC Session in Kuala Lumpur on July 31.
"When the evaluation team comes, the most important thing (for us) is not to make mistakes," said Wei, now a top adviser to Beijing's bid.
The IOC had completed its five-day inspection tour to Almaty on Feb. 18 as Russian IOC member Alexander Zhukov concluded that "Almaty is capable of holding successful Games in 2022."
China's Lu Shengrong, former world badminton chief and IOC member for 1996-2001, was confident of Beijing's race for its second Olympics.
"I am optimistic," Lu said on Wednesday. "Beijing has an advantage, or experience, that any other cities don't."