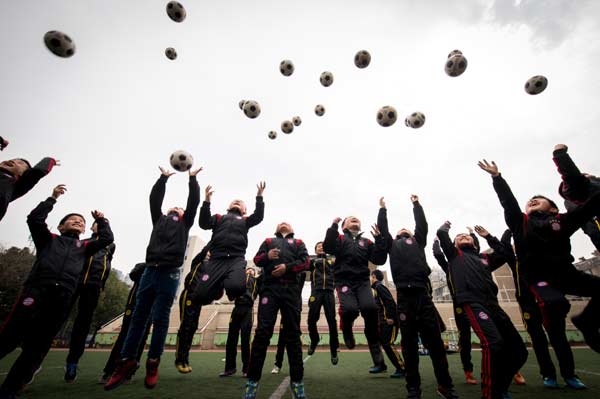 Primary school students in Hefei, Anhui province, mark the start of a new semester on March 2. An overall plan for soccer reform and development was unveiled on Monday, including expanding the soccer system in schools. [Photo/Xinhua]
Once regarded as unattainable dreams, hosting and eventually winning the soccer World Cup have become serious goals for China under a national plan unveiled on Monday to make the sport a truly mass game.
One important feature of the soccer reform plan, issued by the State Council, the country's cabinet, is to streamline the sport's widely criticized counterproductive management system.
The reform will delink the semi-administrative Chinese Football Association from the General Administration of Sport of China, which is now managing the association with its own officials, and make the former a full-fledged nongovernmental organization.
The Chinese Football Association will hand its decision-making power to a reshuffled league council to be formed by shareholders from domestic league clubs and one CFA representative.
Professional leagues will raise their management standards and be open to market-economy practices.
All organizations, from schools to corporations, are encouraged to set up their own soccer teams and to stage amateur games at multiple levels. This should be supported, according to the State Council plan, by government-financed unions, youth organizations and women's associations.
China is the world's second-largest economy, but its soccer performances have been sadly lacking on the international stage.
According to Zhang Jian, secretary-general of the CFA, there were 190,000 student players registered at local sports authorities at the beginning of 2014, less than one-third of the number in 1995. The number of soccer schools in operation has dropped from 1,000 in the 1990s to 20.
Soccer in China has been plagued by poor results, match-fixing and bribery, gambling scams and bureaucratic ineptitude and corruption for so long that the State leadership has had to step in.