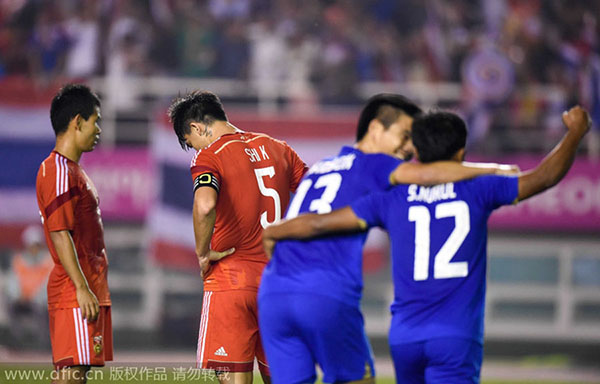 China's U-23 players react next to their winning Thai counterparts during their Round of 16 soccer match at the 17th Asian Games at Ansan Wa Stadium in Incheon, South Korea, on Sept 25, 2015. China lost to Thailand 2-0. [Photo/IC]
An overall reform plan to boost the development of soccer in China has been issued by the State Council General Office.
The reform and development of soccer in China is an important component to build a sports power, said the plan issued on March 16. The changes should be "issues oriented" and the system needs innovation, the plan added.
It requires China Football Association to terminate its affiliation to General Administration of Sport of China, and the Association will have no administrative ranks inside.
Sports lottery will be used to increase investment in boosting soccer, and two more soccer training centers at the national level will be established, the plan said.
The total number of elementary and middle schools featuring soccer will increase from the current figure of around 5,000 to 20,000 in 2020 and 50,000 in 2025.
Both short and long-term goals have been defined by the plan to boost professional and amateur soccer in the country.
The long-term goals include bidding for the FIFA World Cup and bringing the game of the national team to the rank of international teams.
In contrast to its excellence in sports such as table tennis, badminton, diving, shooting, weightlifting and gymnastics, China have been bothered by the lowly performance of the national sides.
The men's team, now ranked 83rd, just qualified for one World Cup finals, in 2002. Meanwhile, the women's side is struggling to recreate their glory as the 1999 World Cup runners-up even failed to qualify for the 2011 edition of competition.