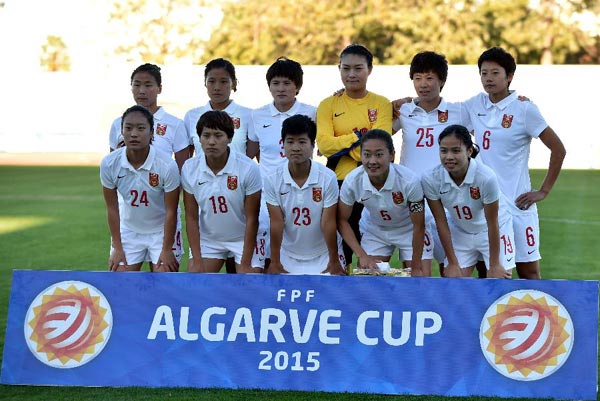 Chinese women's soccer team pose for a photo before their group match against Sweden at the Algarve Cup in San Antonio, Portugal, March 9, 2015. China lost to Sweden 3-0. [Photo/Xinhua]
ALBUFEIRA, Portugal - China came to a worst ever result at Algarve Cup while the United States lifted the trophy for the tenth time in the 22-year history of the women's soccer invitational tournament on Wednesday.
Twice Algarve Cup winners China were held 3-3 by hosts Portugal in 90 minutes and beaten 11-10 after penalty shoot-out to hit bottom of the friendly event.
Forward Zhang Rong went up to the spot as the 11th Chinese and her shot hit the left post and bounced back towards the box before Portugal's goalkeeper Neide Simoes turned to put it down.
Zhang protested that the ball had passed the goal line but Singapore referee Abirami Naidu declined to accept her argument.
Before Zhang, Tatiana Pinto and Carolina Mendes from the hosts alongside with China's Liu Shanshan and Ma Jun all missed their penalty shots.
According to the regulations of the women's soccer invitational tournament, there's no extra time play after a 90-minute draw in knockout stage and the game goes directly into penalty shoot-out.
Substitute Gu Yasha could have sealed the victory for China on the 70th minute after a solo run over 25 meters and beat the Portuguese goalkeeper Neide Simoes.
Referee Naidu, however, awarded the hosts a penalty and Dolores Silva kicked it in just before the four-minute stoppage.
In the very first minute of the game, China, who finished on bottom of Group A after tying Brazil goaless but losing 2-0 to Germany and 3-0 to Sweden, opened scoring through midfielder Xu Yanlu who beat Portugal's defence to no response.
Wang Shanshan headed in the second on 26 minutes for the world No 13, before the hosts pulled a goal back with Filipa Rodrigues easily tabbing in a swirling right corner kick by Ines Silva just one minute later.
The hosts again impressed local audience with their placement kick at 37, when Disburg striker Laura Luis received a distance pass from the left and converted the free kick into an equalizing goal before break.
In the other end of the table, the world No 2 Americans blanked world No 3 France 2-0 with two first-half goals before Hope Solo stopped a late penalty, rebounding from a 0-0 draw against No 20 Iceland on Monday in their last Group B encounter.
Central back Julie Johnston headed in her first international goal just seven minutes into the match through a free kick from Lauren Holiday, and Christen Press made a sensational solo run just before halftime.
Goalkeeper Solo, who came off the bench after serving a 30-day ban, made a heroic save to stop Amandine Henry's penalty kick in the 81st minute after defender Meghan Klingenberg was whistled for grabbing Marie-Laure Delie's arm.
In the third-place match Wednesday, top-ranked Germany beat Sweden 2-1, while Norway defeated Denmark 5-2 for the fifth position, Brazil defeated Switzerland 4-1 to finish seventh, and the reigning World Cup champions Japan trounced Iceland 2-0 for the ninth.
Nine of the 12 teams here in the Algarve Cup will be heading for this summer's World Cup in Canada as the Americans kick their campaign off on June 8 against Australia in Group D and France play their opener the next day against England in Group F.