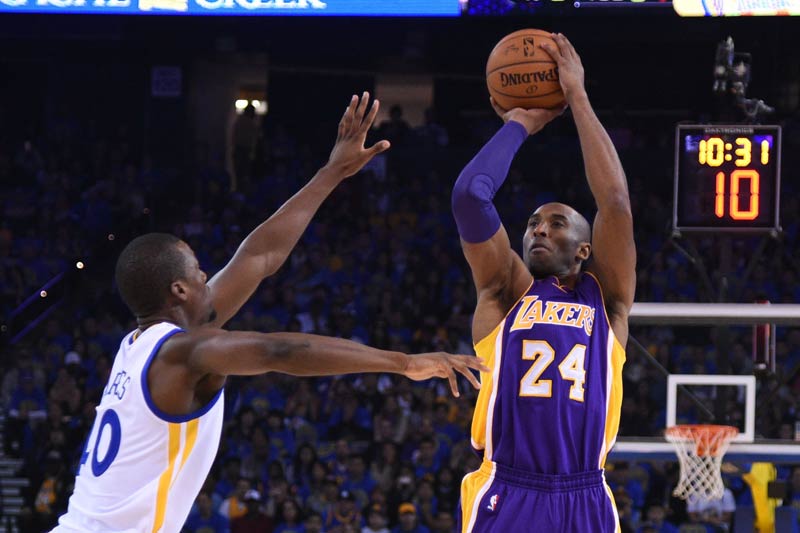 Los Angeles Lakers guard Kobe Bryant (24) shoots the basketball against Golden State Warriors forward Harrison Barnes (40) during the first quarter at Oracle Arena. [Photo/Agencies]
OAKLAND, California - Klay Thompson scored a career-high 41 points in his first game since signing a contract extension, teaming with backcourt star Stephen Curry to lead the Golden State Warriors past the winless Los Angeles Lakers 127-104 on Saturday.
Thompson, who inked a four-year maximum extension worth about $70 million Friday, shot 14 for 18 from the floor. Curry added 31 points and 10 assists, and the Warriors withstood Kobe Bryant's big plays to thrill a blue-shirt wearing sellout crowd of 19,596 in the team's home opener.
Bryant scored 19 of his 28 points in the third quarter and nearly brought the depleted Lakers back. Instead, Los Angeles collapsed in the final quarter to lose its fourth game in five nights.
Chandler Parsons scored 20 points as the Dallas Mavericks won their second straight game, 109-104 over the New Orleans Pelicans.
Dirk Nowitzki scored 17 despite foul trouble, making a 12-foot fade over Anthony Davis that gave Dallas a 109-103 lead with 49 seconds left.
Monta Ellis also scored 17 for Dallas. Parsons' performance was highlighted by a momentum-swinging 3-pointer from well behind the arc that gave Dallas a 101-96 lead in the middle of the fourth quarter.
Davis had 31 points, 15 rebounds and three blocks for New Orleans.
Atlanta's Jeff Teague scored 25 points and Al Horford added 20 in the Hawks' 102-92 win in the home opener against the Indiana Pacers.
Indiana closed to 95-92 when Donald Sloan was fouled in the corner by Horford and knocked down all three free throws with 1:13 left. But Teague answered with a jumper, Sloan missed and Teague made a pair of free throws with 26.6 seconds left to clinch the victory.