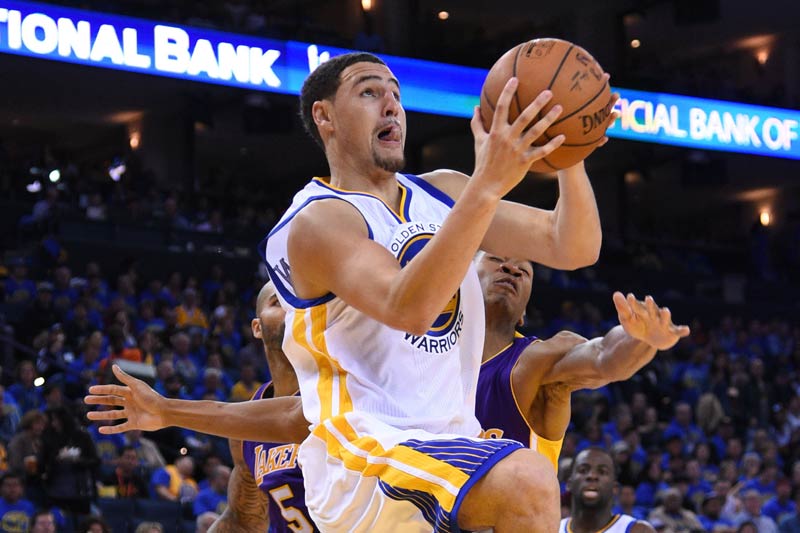 Golden State Warriors guard Klay Thompson (11, center) drives to the basket against Los Angeles Lakers forward Carlos Boozer (5) and forward Wesley Johnson (11, right) during the third quarter at Oracle Arena. [Photo/Agencies]
At Orlando, Florida, DeMar DeRozan scored 26 points and Kyle Lowry added 21 as the Toronto Raptors beat the Magic 108-95.
Evan Fournier scored 18 points for the Magic, who have lost three straight. Rookie point guard Elfrid Payton had 16 points and nine assists.
Chris Bosh had 30 points and eight rebounds for the Miami Heat, which downed the Philadelphia 76ers 114-96 for their second straight win.
Mario Chalmers scored 18 points, and Dwyane Wade had nine points and 10 assists for Miami.
Tony Wroten had 21 points and 10 assists for the Sixers
Paul Pierce was ejected before halftime in his first home game with the Wizards as Washington beat the Milwaukee Bucks 108-97 after Otto Porter scored a career-high 21 points.
The Memphis Grizzlies edged the Charlotte Hornets 71-69 after Marc Gasol scored 22 points, and Zach Randolph had 12 points and 12 rebounds, while Joe Johnson scored 15 of his 34 points in the fourth quarter as Brooklyn Nets earned their first win, 102-90 over the Detroit Pistons.
In other games, the Houston Rockets defeated the Boston Celtics 104-90, the Oklahoma Thunder downed the Denver Nuggets 102-91 and the Chicago Bulls sneaked past the Minnesota Timberwolves 106-105.